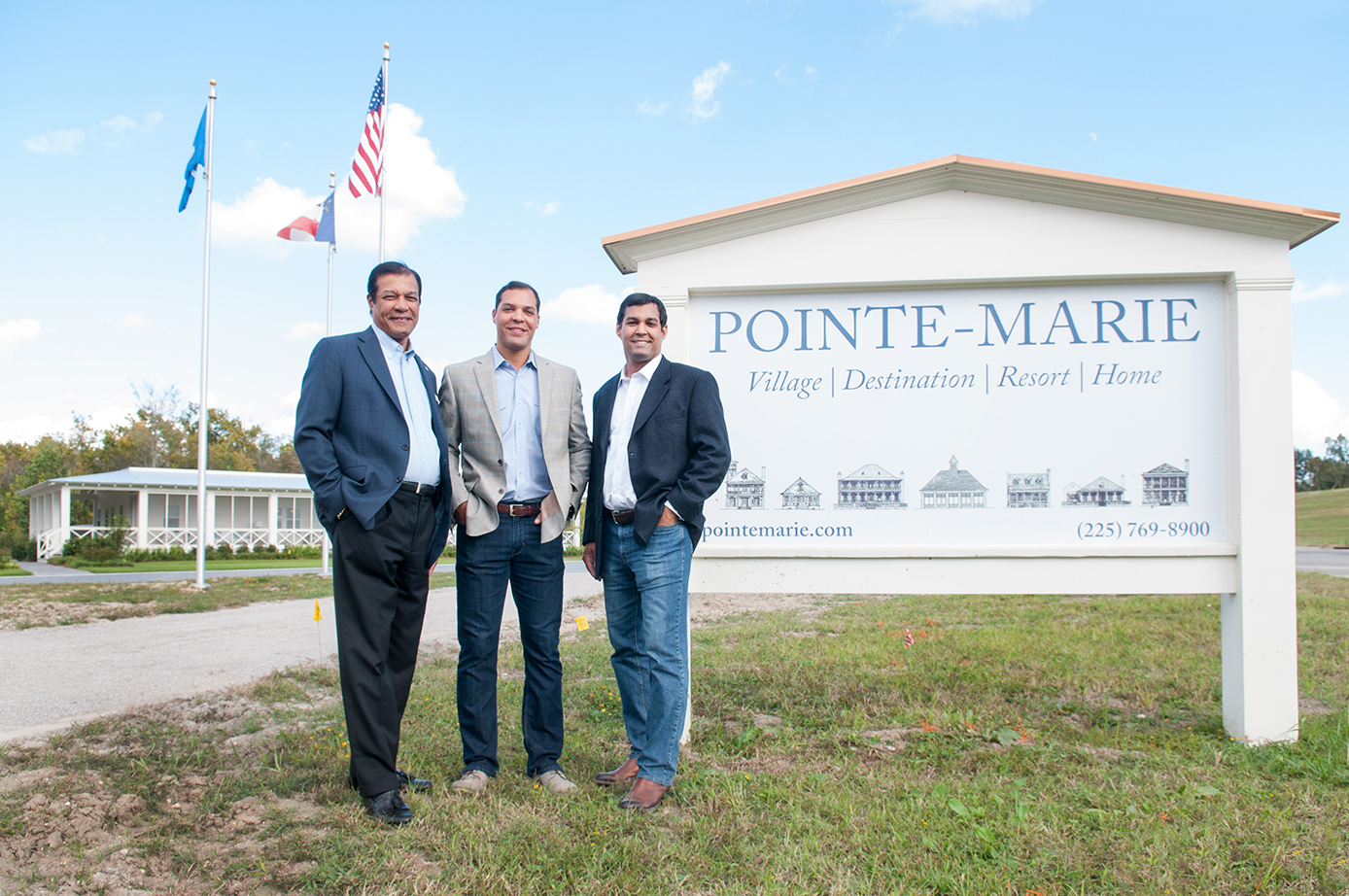 Developers Rhaoul Guillaume Sr. (from left to right) and his sons, Rhaoul Jr. and Randy, say their Pointe Marie development will have the look and feel of Seaside Beach on the Florida Panhandle, but will be more modestly priced than the Gulf Coast vacation hotspot. (Photo by Don Kadair)
---
When it comes to building a better TND, a family of engineers hope to accomplish what some of the area's most seasoned developers have been unable to do after more than a decade of trying.
Seaside Beach on the Florida Panhandle's Highway 30A is a popular vacation destination for many Baton Rouge residents. Pop into Modica Market or Sundog Books in the Seaside Village and you inevitably bump into someone from back home. Pedal through the development on the cruising bike that comes with your rental unit and you pass a flotilla of SUVs bearing decals from Episcopal, Dunham or Catholic High.
Seaside is not a trendy, go-to vacation spot simply because of its sparking white sand and clear, azure water. For 30 years, it has been one of the hottest resorts on the Gulf Coast because it's a pristine example of a Traditional Neighborhood Development, or TND—a New Urbanist-inspired, pedestrian-friendly community where you can live, work and play in a storybook setting with landscaping, wide open green spaces and classic vernacular architecture that harken back to an idyllic, imagined era.
Now, a local family is trying to bring its own version of Seaside to Baton Rouge with Pointe Marie, a development under construction on a 120-acre tract off River Road, about a quarter mile upriver from L'Auberge Casino. Pointe Marie was designed by Seaside's architects and is being developed with help from Seaside consultants. And its developers—Rhaoul Guillaume Sr. and his sons, Rhaoul Jr. and Randy—promise Pointe Marie will have the look and feel of Seaside, but, and here's the trick, at more modest, Baton Rouge prices.
"We did all sorts of studies after we bought this property—multifamily, hotel, RV, commercial, environmental," says Guillaume Sr., who acquired the site in 2011 for $4.1 million. "Then, we started looking at Seaside and thought, why can't we do that here but do it Louisiana style?"
It's an intriguing concept, and already Pointe Marie has several unique amenities under construction that will closely resemble structures in Seaside. But developing a Baton Rouge version of Seaside won't be easy and it likely won't happen quickly.
As some of the area's most seasoned developers will tell you, they've been working for years on TNDs and similar developments called PUDs, or planned unit developments. After more than a decade of trying, some still don't have any commercial tenants. None comes close to approximating a Seaside or River Ranch, the phenomenally successful—and sprawling—Lafayette TND.
Can the Guillaumes succeed where others have struggled? Perhaps. But developing a TND is a long, hard process. No matter how good the concept or the consultants, it takes a lot of upfront capital, the right location and the wherewithal to wait—sometimes years—for deals to come together.
"It's very difficult for TNDs to gain the momentum they need and the mix of property uses, and to get them all in the right proportions to make them work," says appraiser Tom Cook of Cook, Moore and Associates. "It took River Ranch in Lafayette forever to catch on. With a TND, it's a chicken and egg kind of thing, and you have to have deep pockets and a lot of patience."
"It took River Ranch in Lafayette forever to catch on. With a TND, it's a chicken and egg kind of thing, and you have to have deep pockets and a lot of patience."

—Tom Cook, real estate appraiser
The Seaside playbook
The Guillaumes realize Pointe Marie won't come together overnight. They're also realistic about the costs associated with TNDs. Already, they've invested $11 million in the project, including land costs, and expect to spend another $4 million or so to complete the first phase of the development.
But they are optimistic that following the Seaside playbook will be successful. A key page from that playbook entails immediately creating a sense of place within the nascent community. To that end, they're beginning by constructing the civic gathering spaces intended to draw people into the development—a 1,000-square-foot bandstand, a 1,000-square-foot screened vaulted pavilion and an outdoor demonstration kitchen with two fully-equipped cook spaces, as well as several small temples, or gazebo-like structures, kiosks for pop up retailers, and discreet electrical outlets for food trucks and mobile vendors.
The idea is to create a feeling among residents and visitors alike that Pointe Marie is a happening place with engaging activities and events like a farmers market, concerts, yoga classes or a movie on the lawn. It's also a way to market the development without advertising, per se.
"Pointe Marie is one of the few TNDs I've been involved with since Seaside to bring back that meaningful, civic gathering space before you have any houses," says Florida-based real estate consultant Chris Kent, who is advising the Guillaumes on Pointe Marie and has worked on dozens of TNDs, including Seaside and River Ranch. "It makes more sense to get activity going versus having just one or two retail shops … it also attracts people to come see the site in person."
Another element of the Pointe Marie strategy is to offer what the Guillaumes say will be homes in a variety of price ranges. Single-family residential lots will be small—just 50-by-100-square feet—and will average around $85,000. Spec homes, built by a handful of pre-selected builders, will average between $230 and $240 per-square-foot, and range in size from 1,200- to 2,800-square feet. Buyers can also use their own custom builder, provided they adhere to certain guidelines.
Yet one of the more important—and intriguing—aspects of the plan is an RV resort that will be located in the rear of the development and eventually include as many as 250 RV pads, though only 30 will be developed in the first phase.
The RV resort will have its own separate entrance and amenities, like a pool and clubhouse, and heavy landscaping will buffer it from the rest of Pointe Marie. At 40 acres, the RV resort will take up a full one-third of the development once it's fully built out. More importantly from the developer's standpoint, the hope is that it will serve as a revenue generator while the rest of the TND slowly gets on its feet.
Demand for RV resorts is growing around the country, according to industry publications, as aging baby boomers increasingly take to the open road in their motorhomes. Upscale RV resorts provide a place for these itinerant retirees to call home for a few weeks or months out of the year, and have proven particularly popular in Southern states and in towns near Southeastern Conference universities.
At Pointe Marie, RV lots will sell for between $99,000 and $119,000, depending on location—more than the home sites. The pads will also be available for lease for around $80 per night, though they will likely command more on LSU game nights.
Market research, say the Guillaumes, indicates demand for such a facility exists in the Capital Region. A 2012 study found there are 45,000 RVs within Ascension, Livingston and East Baton Rouge parishes but no nearby RV resorts. The study also determined Louisiana is one of the top five states in the country in terms of the number of RVs per capita.
Nick Vlahos, a Destin, Florida-based consultant who is also working with Pointe Marie, says while the idea of an RV resort may seem incongruous with a TND, they actually work well together.
"There are a lot of TNDs that have transient components," he says. "Seaside, when you think about it, is really transient. The idea of having people come on a daily, weekly or monthly basis is not new and brings a lot of energy to a TND."
The chicken and egg challenge
Pointe Marie will be the latest of several TNDs and PUDs to emerge as an alternative to the ubiquitous single-entry subdivisions in a market notorious for chronic gridlock. In the mid-2000s, the Metro Council created a TND zoning ordinance spelling out the rules for how these master-planned, pedestrian-friendly, mixed-use communities must be developed.
Almost overnight, several developers filed plans for TNDs and PUDs. Nearly a dozen years later, some of these communities are only now beginning to gel, due to a variety of challenges including the Great Recession of 2008, neighborhood opposition and difficulties attracting tenants, buyers and financing.
It has taken developer Richard Carmouche more than a decade for his successful Willow Grove mixed-use neighborhood to come together. (Photo by Don Kadair)
---
It took developer Richard Carmouche 11 years to get his 112-acre Willow Grove on Perkins Road to come together. Even today it is not a true TND—it's technically a PUD—and its village center is small, with a couple of popular restaurants, a handful of boutiques, a spa and some office suites. A historic farm house on the property is also under renovation.
Part of the challenge in developing Willow Groves, says Carmouche, was the recession hitting just as the project was  getting off the ground, temporarily bringing it to a virtual standstill. Another issue, was its location, between Bluebonnet Boulevard and Siegen Lane, which was considerably less developed and populated a decade ago than it is today.
"The TND concept is an urban concept and when you start getting farther out buyers want larger lots," he says. "When we started Willow Grove, Perkins Road was two lanes, Perkins Rowe didn't exist and the Mall of Louisiana had been expanded, so there was a lot of growth that came in around us."
Another hurdle that comes with developing TNDs is creating a sense of a place—a fully built-out small town that people will want to live in—before anyone actually lives there. To attract residential buyers you need retail tenants, but to attract retail tenants you need residents. In the meantime, you have to develop amenities such as a clubhouse, walking trails and civic gathering spaces—niceties not every developer can afford when the returns on those investments come years later.
"They are hugely capital intensive," says veteran real estate attorney Charles Landry, who is working with developer John Engquist on Americana, a 420-acre TND in Zachary.  "What you're doing in a TND is trying to have a walkable community with many amenities that create a lifestyle. You have to have a developer with the resources who can create the lifestyle from day one, and you have to put in the amenities before you have the first house sold."
"TNDs are slow to take off, but when they do it's magic and you start getting some real value creation."

—John Engquist, developer, Americana
Engquist has been able to do this, largely because he had the financial wherewithal, and Americana has more commercial and civic components than any of the other developments in the market—a Walk-On's restaurant, a new Y, and a 100-unit senior living center and 8,000-square-foot childcare center both under construction. More commercial tenants have signed leases and letters of intent, and plan to open in 2018.
Still, even with all the amenities, Americana has just 55 single-family homes completed so far. Ten more are currently under construction. Engquist says he is selling about four new homes per month on average.
"TNDs are slow to take off," he says. "But when they do it's magic and you start getting some real value creation."
On the other end of the spectrum is Rouzan, which has been in the works off Perkins Road since 2007. It's in a highly desirable location in the middle of Southdowns, which is among the reasons its home sales have been brisk. Developer Tommy Spinosa has completed the first two phases of the development and builders are waiting on infrastructure work to be completed so they can start working on the next phase.
But Spinosa hasn't been able to attract any commercial tenants to Rouzan's Village Center, and plans to house a neighborhood library fell through. An Alamo Draft House announced plans in 2014 to be an anchor tenant, but later backed out of the deal. Consequently, several smaller leases that were contingent on the Alamo Draft House deal also fell apart.
"With commercial, you have to get all the dominoes to fall," Cook says. "Basically, all the commercial tenants need to go in together."
Mike Wampold and John Fetzer have intentionally held off trying to attract commercial tenants to Harveston, their 1000-square-foot PUD on Nicholson Drive straddling the Bluebonnet Boulevard extension. Harveston isn't trying to be a Seaside-type TND, with its narrow lanes and small lots, Wampold says. Rather, it's a mixed-use, pedestrian-friendly development.
It's doing well. More than 200 residential lots have been sold in the first three sections of The Preserve at Harveston, and work will soon begin on The Lakes at Harveston, the next phase of the project.
But Harveston is far from mature, the developers say, and it's still too early to move forward with the retail buildings, school, church and other planned elements the development will ultimately offer.
"We're going to start putting those pieces in place and that is going to be the fun, when you're going to see it all starting to come together," Wampold says. "But it will be 2018 before any ground is turned and 2019 before any real activity starts."
The Guillaumes say they're not worried about commercial tenants at the moment. They believe the kiosks and space they carve out for pop up retailers and food trucks—coupled with the civic gathering spaces like the bandstand and pavilion—will create a hub of activity more effective than any single retailer.
Kent, the consultant, points out that in the early years of Seaside, movies on the lawn were projected onto a sheet strung up on a frame—and people came.
"A magician and a dozen kids is an event," Kent says. "We're not out to change the world. We just want targeted and interesting events."
It's too early to say whether the if-you-build-it-they-will-come approach is enough to help launch Pointe Marie. But more than 70 lots have presold since Labor Day, which gives the Guillaumes and their consultants reason for optimism.
"This family has been serious about doing it right and building something meaningful in Baton Rouge," Vlahos says. "I think we're starting to see what payoff looks like."