Sharon Weston Broome 'looking forward' after rocky first year as Baton Rouge mayor

SECOND VERSE: After a rocky first year in office, Mayor Sharon Weston Broome seems to have found her footing, but many of the issues that dogged her in 2017 remain. (Photo by Brian Baiamonte)
---
Surrounded by supporters inside a small but packed hotel conference room in April 2016, Sharon Weston Broome, in a fiery speech, announced her campaign for Baton Rouge mayor, declaring the day to be the first step of a journey.
What she likely didn't anticipate that day was just how rocky the journey would become. It was three months before Alton Sterling would be shot and killed by two Baton Rouge police officers, three months before three local law enforcement officers would be gunned down by a lone, out-of-town killer, and four months before a devastating August flood swamped South Louisiana, hitting especially hard on the eastern side of East Baton Rouge Parish and anywhere else near the Amite and Comite rivers. Three events over 30-some days that not only forever changed Baton Rouge, but also the collective aftershocks and the long road to something resembling recovery would come to dominate Broome's first year in office.
In some respects, recovery from the flood was the easier task. The damage was evident. So too was the collective resolve of residents to pull together and rebuild. More tricky are the divisions—between white and black Baton Rouge, between the black community and the police, between what happens in south Baton Rouge and what doesn't in north Baton Rouge—that have long defined this city but are rarely put on public display. Instead, these tensions usually simmer beneath the surface. But not now, not after Sterling and not after Broome's election; Sterling's death ignited voices and Broome was carried into office with the expectation of doing something about injustices—real and perceived.
Those challenges were thrust upon her. There would be others—like controversies with the Council on Aging and the awarding of BRAVE contracts—that she either inherited or amplified by her handling. And then there were the self-inflicted wounds: the fiasco that was the hiring of the flawed Troy Bell as her chief administration officer and her months-long, mismanaged crusade to replace Carl Dabadie as police chief.
Lost in the swirl of negativity was a successful effort in early 2017 to enact several police reform measures. Still, Broome's first year in office won't be remembered for what went right, but, rather, what went wrong, like a roads tax proposal that never made it past the Metro Council.
"I'm always looking forward. I believe you own up to mistakes and use them as a foundation to build upon. While we certainly had bumps in the road, I never stopped focusing on my goals for this parish."

—SHARON WESTON BROOME, Baton Rouge mayor
So now, heading into year two of her administration, the question is whether Broome's first year will define the rest of her term—or will she transcend 2017 to turn things around in 2018? Recent developments, unquestionably, have been positive. The hiring of Darryl Gissel as CAO has not only been widely applauded across the parish but his presence has brought a measure of calm and stability to Broome's administration. And her selection of a new police chief could soon close a turbulent chapter in her administration.
"I'm always looking forward. I believe you own up to mistakes and use them as a foundation to build upon," Broome says. "While we certainly had bumps in the road, I never stopped focusing on my goals for this parish."
She chalks up missteps to having a shorter transition period than her predecessors. Broome had less than a month between winning the election and being sworn in as Baton Rouge's first female African-American mayor. A problematic time crunch exasperated by the repercussions of the previous summer.
Going forward, success may lie in partnerships like the one with Gissel, a former Republican who ran against Broome in the mayoral race as an independent. He balances out the administration and can earn support outside of Broome's base, which is important as she'll need widespread appeal to tackle challenges in 2018.
Ultimately, though, success lies in Broome's own hands and she still has time to reach it. With at least three years left in office, it's far too early to write her off at this point in the game.
"She's capable," says political analyst and radio host Jim Engster. "I don't think it's a lost cause. At the same time, the
honeymoon is over."
CHALLENGES ABOUND
Although she starts year two two on better footing, many of the same issues still loom in Baton Rouge—traffic, crumbling infrastructure across the parish and an alarming murder rate.
Moreover, there's the delicate balancing act between constituents in largely black north Baton Rouge who are demanding increased financial support and those in largely white south Baton Rouge who argue they also have needs—and generate a large percentage of the non-corporate tax base. That tug-of-war is playing out in a parish that's becoming increasingly Democratic but still driven by anti-tax, small government residents in the suburbs. A tension that, in part, is fueling the St. George incorporation movement, expected to play out again in 2018.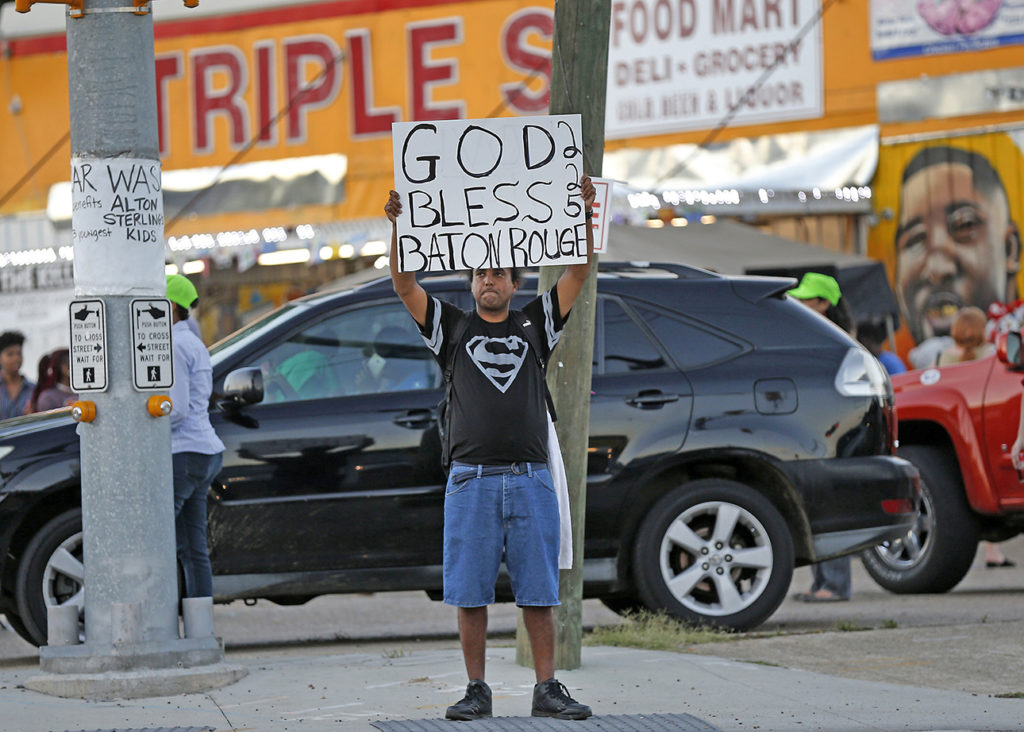 RACIAL DIVIDE: The police shooting of Alton Sterling in July 2016 thrust long-standing tensions between black and white Baton Rouge into the spotlight for the world to see. Bridging that divide will dominate Mayor Sharon Weston Broome's second year in office. (Photo by The Associated Press)
---
Analysts say she has to first focus on the most pressing issues that fall under her purview: things like traffic, public safety and economic development.
"She has to take on infrastructure and roads," suggests political strategist Roy Fletcher. "That could be her legacy issue. She's got three years. I don't know if it's even possible. But if she puts together an accountable and transparent plan, she has a shot and she has to take that shot—for her own legacy and before the community strangles itself to death."
Broome's first crack at tackling infrastructure fell short in 2017 when the Metro Council rejected her roads tax proposal. The mayor says she may come back with a more palatable tax proposal this year, as part of her broader transportation game plan, which she hopes to unveil in the first quarter of 2018.
Passing it will be a difficult, to say the least, given Baton Rouge's tax-averse climate, but Broome has a chance if she lays out a clear, easy-to-understand plan with a list of identifiable projects.
Infrastructure improvements will also be tied closely to economic development, which Baton Rouge could use more of. Big announcements have been popping up around the state, but it's been awhile since Baton Rouge had one of its own.
"If I were her, I'd be much more aggressive trying to secure—and people would appreciate—some economic development wins for this city," Fletcher says.
The pressure will be on to bring development to north Baton Rouge in particular, says Albert Samuels, who chairs Southern University's political science department. North Baton Rouge has long felt neglected, and former Mayor Kip Holden took heat for that.
Broome inherited the issue, Samuels says, and even less patience from the public to do something about it after the Sterling shooting in 2016 exposed the divide between north and south sides of Florida Boulevard.
The other major issue that must be addressed in 2018 is crime. Last year East Baton Rouge hit a record high murder rate. The disturbing trend garnered widespread attention and landed Baton Rouge on a list of 12 cities to receive Justice Department aid for its violent crime problems.
Meanwhile, Broome has faced backlash for her handling of public safety, from efforts to replace the police chief to the BRAVE contracts controversy. She may be able to put those issues behind her in 2018 with a new police chief.
"In 2018, I see the gap closing between citizens and police," says Broome, who was set to announce her pick for chief on Dec. 29. "A new chief signifies a new chapter for us. I'm looking forward to turning the page."
Hiring a new chief and making amends with the department could go a long way. But that alone will not solve the violent crime problem, which is what the city needs. The climbing murder rate is not only a concern to citizens, it also impacts Baton Rouge's reputation.
"Averaging so many murders a week, it can become who we are," says Clay Young, a local media personality and owner of Clay Young Enterprises. "We need to paint 2017 as an anomaly year."

(Click graphic to enlarge)
---
RISING ABOVE  
And then there's the ongoing St. George movement. After a narrow defeat in 2015, the law required organizers to wait two years before restarting their campaign to create the City of St. George. It's almost certain the breakaway effort will return in 2018.
A St. George incorporation would come as a blow to the Broome administration because she campaigned heavily against the movement. But the mayor, who has met with organizers, says their concerns are being addressed and a revamp—which legally could have begun in the summer of 2017—has yet to happen.
The reality is there's only so much the mayor can do about a breakaway attempt. The focus, say analysts, instead should be on what the mayor actually can change, tangible initiatives, like a well-concocted transportation proposal able to win broad-based support.
This is where Gissel may come in. He says his role in the administration will be to pull together resources, organize the players and leverage combined assets. Gissel also plans to find efficiencies within departments and ways to save money in 2018, as city-parish budget dollars are tight.
At the end of the day, though, these initiatives will cost more money than the city-parish has on hand. That means the mayor will have to get a tax proposal passed, and therein lies the challenge, which will require Broome to rise above the divisions that have long plagued Baton Rouge.
"Look, no one likes taxes and everyone knows there's waste in government, but she has to preach something that's bigger," Fletcher says. "This city is teetering right now. We're liable to have a St. George fight, and it will be divisive. She has to transcend that."
Other Key Issues: