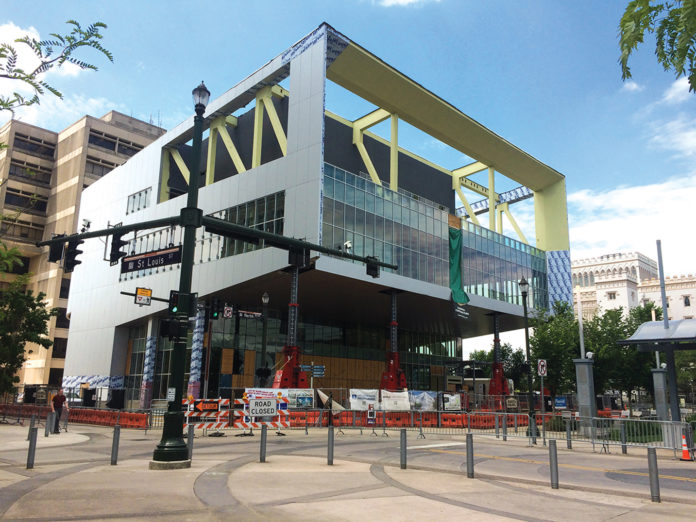 Ten months after a structural failure halted construction on the downtown library, elected officials and civic leaders are increasingly frustrated by the lack of progress over a resolution that would enable work to resume.
While attorneys for the city-parish and the various design, engineering and construction firms involved in the project have been busy pointing fingers at one another in 19th Judicial District Court, they have yet to agree on who should front the money—now estimated to be $2 million—to begin repairs and get the long-delayed project underway again.
"When you have a building that has been sitting there for so long you have to get things moving forward," says Metro Council member Tara Wicker, whose district is home to the library. "That library needs to be finished, if for nothing more than public perception. The taxpayers need to know their money was put to good use."
Downtown Development District Executive Director Davis Rhorer is also getting antsy as the months tick by. He describes the library as the centerpiece of North Boulevard Town Square, which he has worked for years to help create, and a key civic attraction in the heart of downtown.
"The concept and commitment for this project is that we, as a community, value education and learning in our most important public square," he says. "As such, it is important that we resolve and finish this iconic project as soon as possible."
Earlier this year, it appeared the library board, with city-parish approval, was poised to front the money for the repairs and construction, provided it would be reimbursed once the litigation was settled. But that deal was negotiated under the Parish Attorney's Office, which is no longer representing the city-parish in the case.
An attorney with the private law firm that took over the matter says they are still trying to work things out.
"We are actively communicating with the attorneys representing the numerous contractors involved in the construction of the downtown library and their insurance companies," says J. Cullens. "We anticipate reaching a consensus regarding how best to proceed by the end of this month."
Wicker says that's not soon enough and that the lawyers need to figure things out.
"We need to go ahead and deliver the quality library that everybody anticipated and then work through the details of the finger pointing," she says. "The community doesn't care who's at fault. They just want it done."