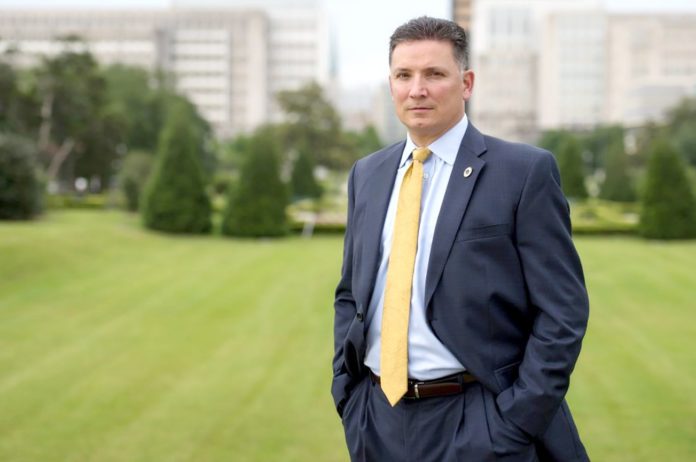 If you want to know which political direction Treasurer John Schroder is leaning just roughly a year after being elected, and about as far away from his re-election bid, look no further than two of his most recent hires. Both of them came from the ranks and files of the staff put together by fellow Republican Attorney General Jeff Landry. While Schroder, in succeeding U.S. Sen. John Kennedy via a special election, is still working to develop his personal brand as a statewide elected official. But his stances as a state representative and long-standing desire to be a fiscal watchdog aren't too many political miles away from the fire-breathing brand Landry honed in the courtrooms of Acadiana and later in Congress. Schroder's most recent hire is Ruth Wisher, previously Landry's press secretary. She'll be taking the lead on communications and working in legislative affairs for Schroder. The former responsibility will fit like a glove for Wisher, who worked regularly with national reporters. Renée Fontenot-Free, on the heels of her surprising third-place finish in the recent special primary election for secretary of state, has also joined the staff as executive counsel. Free was previously Landry's director of the Public Protection Division. She has spent the vast majority of her career in state government, working under five different attorneys general and three secretaries of state.
—When you're a mid-term incumbent facing re-election in less than a year and you openly ponder a bid for another office, the resulting speculation about an open seat can hard to shut off. Such was the case with Schroder, who initially refused to rule out a run for governor when questioned by reporters. He has since announced his intentions to seek re-election. Before Schroder reached that moment, his off-the-cuff remarks invited other politicos to begin positioning for and quietly thinking about the likelihood of an open race for treasurer, however unlikely. And apparently that included Sen. Kennedy's chief of staff. Three separate sources told LaPolitics last week that Preston Robinson was being encouraged by close friends to look at the seat, but only if it became open. Robinson was a top campaign aide and assistant treasurer under Kennedy for 13 years, and he managed the senator's 2016 race. State Rep. Julie Stokes, R-Metairie, who hadn't publicly made any real moves, was also being mentioned by influencers as a potential candidate.
They said it: "It seems those who have put deadlines on themselves before really haven't been able to honor their own deadlines."—State Sen. Sharon Hewitt, R-Mandeville, commenting on when she'll make her own decision on the governor's race, in The Monroe News-Star.
Jeremy Alford publishes LaPolitics Weekly, a newsletter on Louisiana politics, at LaPolitics.com. Follow him on Twitter, or on Facebook. He can be reached at JJA@LaPolitics.com.