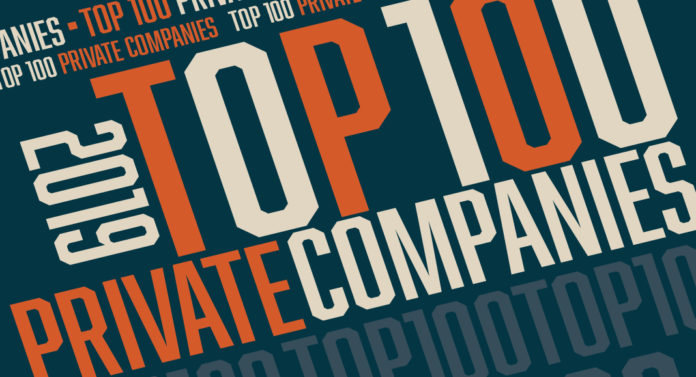 As has been the case every year since 1995 but one, Blue Cross and Blue Shield of Louisiana tops the annual rankings of Top 100 private companies in Baton Rouge and across the nine-parish Capital Region. Checking in right behind is Turner Industries Group LLC, which has held the No. 2 spot for each of those years—except for that lone exception in 1997 when the two companies traded places in the revenue rankings.
Blue Cross and Blue Shield saw its 2018 revenues climb 6.7% to $3.8 billion, while Turner rebounded from a decline in 2017 to post an 8.2% surge to $2.7 billion. Rounding out the top five: Performance Contractors, up 11.2% to 1.24 billion; Raising Canes, up 23% to $1.2 billion; and Brown & Root Industrial Services, up 19.2% to $978 million.
In fact, every company on this year's top 10 posted revenue gains in 2018, with seven realizing double-digit percentage increases. 
Overall, 68 companies on this year's list saw revenue gains, 31 saw declines and one remained flat over 2017 numbers. Collectively, this year's top 100 class generated $25.7 billion in revenue in 2018, up 6.8% from the previous year's $24.1 billion. 
Read Business Report's Top 100 cover story here, and see the full top 100 list here.