---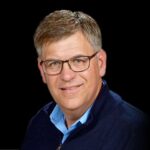 The late, great Steve Carter—throughout his 12-year career as a state legislator, including a stint as chairman of the House Education Committee—ardently set out to make literacy and early childhood education top priorities in Louisiana. He lobbied his fellow state legislators. Horse-traded votes. Wooed the governor.
It was a simple pitch, writes Business Report Executive Editor JR Ball in his new opinion piece: Beginning the education process well before kindergarten gives a child the best shot at success—in academics and in life. The science of child development was on his side. Getting the public funding necessary to make it an option for every child—rich or poor—became something of a quixotic effort.
Carter remained committed to his causes until COVID-19 took his life in late January. A few months later, state legislators paid tribute by creating the Steve Carter Literacy Program, which would provide reading-challenged students from kindergarten through fifth grade up to $1,000 per year to get expert help. But, in true Louisiana fashion, they never bothered to find a way to cover the $159 million annual tab.
Compounding the insult, of the $3.2 billion in manna Louisiana state government got from the American Rescue Plan Act, we could only spare a mere $40 million—a putrid 1.25%—to address the dismal fact that roughly half of this state's young students can't read at grade level.
Our priorities are sorely out of whack.
Louisiana needs a bold strategy that attacks our core issues—poverty and education. Eliminate the gratuitous corporate exemptions. Do a deep-dive analysis of the state's safety net programs and acknowledge those that aren't working. And, instead, use those dollars to make a difference, Ball writes. Read Ball's full column from the latest edition of Business Report. Send comments to editor@businessreport.com.