---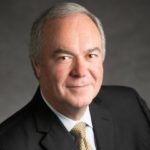 The latest issue marks the first issue of Business Report's 40th year of publishing. 
Much has changed in Baton Rouge and the world since we began publishing, as well as in the media industry. What a ride it has been, writes Business Report Publisher Rolfe McCollister in his new opinion piece.  
One thing McCollister has learned in four decades: You can't stop change, so embrace it. (We all experienced that lesson in the last 18 months—and in the recent aftermath of Hurricane Ida.) 
But it's not certain that this city and state have grasped that truth—and it has cost Louisiana opportunities for growth and quality of life, McCollister writes.
Baton Rouge and Louisiana leaders must continue to innovate, take risks and fight to improve the community, he writes. 
Also in his column, McCollster makes his endorsements for the Nov. 13 election. McCollister supports Constitutional Amendments 1, 2, 3 and 4, but opposes the Capital Area Transit System's 10.6-mill renewal for 10 more years.  
Read McCollister's full column, which is free and available for all readers. 
See a complete breakdown of the constitutional amendments from the latest edition of Business Report.