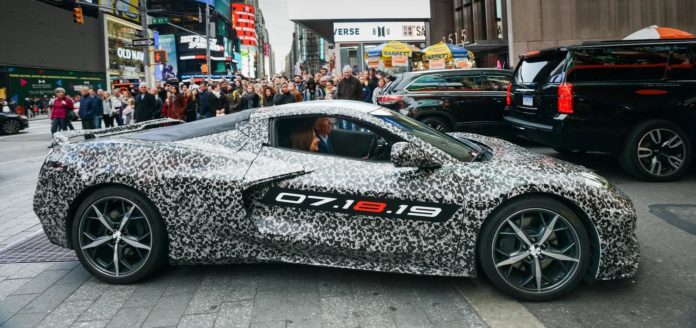 As General Motors prepares to unveil the next generation of the Chevrolet Corvette, with a radical mid-engine redesign, fans of the American sports car in Baton Rouge are already lining up to get their hands on the new model. 
Although the eighth-generation Corvette isn't expected to hit dealerships until the fall, some customers have reached out to local dealerships like Gerry Lane Chevrolet to place their orders ahead of the rollout. 
"Every dealer will only get so many," says Eric Lane, president of Gerry Lane Enterprises. "Most people will have to put down deposits now to order what they want. Three people have already reached out telling me, 'How much money do you need?'"
Karen Bedell, a member of the Baton Rouge Corvette Club, says other dealerships will likely also have wait lists, such as Ross Downing Chevrolet in Hammond, which specializes in the sports car and where Bedell and fellow club members purchased their Corvettes. 
The hype surrounding the C8 release stems from a major redesign of the front-engine layout Corvette has relied on for its entire 66-year history. The new model, with a midsection engine located behind the driver, brings the Corvette in line with mid-engine European sports cars like Ferrari and Porsche. It also gives the car "instant torque," Lane says, making it more efficient.
"It's a big deal," Bedell says. "Just about everyone in our club has a C7. I'm super excited because I race mine. I would love to have a mid-engine. I'm on my third Corvette. That will be my fourth."
The rollout of the new Corvette model, as with any new product, will be good for business at Chevy dealerships like Gerry Lane. How many new Corvettes each dealership receives depends on average sales, though Lane declines to say the number his company is expecting. 
"If you can't come out with a new product every three to five years, you can't compete in today's environment," Lane says. "People always want something new. If you keep coming out with the same product, people will say, 'Heck with this, I'm getting something new.'"
That's what happened with the Saturn brand, he adds. Even the most loyal customers became disenchanted with Saturn after seeing the same old model for years. 
What's intriguing about the Corvette C8—which will carry the Stingray name—is that it's more affordable than European sports cars with midsection engines, which can cost upwards of $200,000. The starting price range for the Corvette C8 is expected to be $60,000 to $70,000. 
And not only are Corvette enthusiasts lining up for the new model, some of the more nostalgic fans also seem to be buying up the soon-to-be old version before the C8 hits.
"There will always be people who don't like the new," Lane says. "We've sold nine Corvette Stingrays in the past few months. Must be a reason—people want to hurry and get the last ones."