Capital Region industry bracing for impact of trade war with China

BREWING THREAT: President Donald Trump, right, and Chinese President Xi Jinping have expressed their friendship but increasingly their talk has been about imposing tariffs and pursuing their own political agendas. (Photo by The Associated Press)
President Donald Trump's March order to impose a 25% tariff on steel as well as a 10% tariff on aluminum imports not only set off objections across seven continents, but it also has government and business leaders around the world fretting about the fallout from a potential trade war with China. And as the Chinese counter with proposed retaliatory tariffs of their own, there's growing concern in the Capital Region that industry here may soon feel the impact.
Measuring the impact right now is pretty much a guessing game. Companies in this area have inventory in supply and exactly who will be subject to any tariffs remains a mystery as companies jockey for exemptions. By mid-April, more than 1,200 companies across the United States had applied for waivers from the steel tariffs, the U.S. Commerce Department confirmed to The Washington Post, while 125 are requesting exemptions from the aluminum tariffs. Still, this "tsunami" could ripple into Baton Rouge.
China's proposed tariffs could affect up to 2.1 million American jobs across more than 40 industries—ranging from aircraft manufacturing to fruit and vegetable canning—according to estimates from The Brookings Institution. Included in that figure is some 2,422 jobs in East Baton Rouge Parish, 2,025 in Ascension Parish and 1,158 in Iberville Parish.
Which explains why statewide groups like the Association of General Contractors, the Port of South Louisiana and the World Trade Center of New Orleans are paying close attention to this geopolitical game of tariff threats.
Unfinished business
Tariffs are but one uncertainty for Ken Naquin, CEO of Louisiana Associated General Contractors. He's also worried about the on-hold decision in East Baton Rouge Parish about how those applying for the Industrial Tax Exemption Program will be evaluated, leaving in jeopardy, by his count, some $90 billion worth of projects under consideration.
This could mean delayed economic development for the state, Naquin says.
Moreover, Trump says he's considering imposing tariffs on other products that are especially critical to the construction industry. "We get a lot of our raw cement that goes into asphalt and concrete for products, like siding for buildings, from foreign countries because we just don't have it here," Naquin says. "Are we going to put a tariff on that?"
Pretty much any company that uses steel would feel the effects of trade war, says Andrew Fitzgerald, director of business intelligence for the Baton Rouge Area Chamber, which has yet to take a formal stance on the tariff issue.
About 700 jobs in the Capital Region's pipe fabrication industry could take a hit from Chinese tariffs, according to BRAC estimates, all of which are located in plants dotting the banks of the Mississippi River. The names ring a familiar tune—ExxonMobil, Dow Chemical and Methanex, to list a few.
Beyond jobs, there's also concern chemical plants and other industrial operations considering expansion could slam the brakes on any major capital investments should costs escalate due to tariffs. Economist Loren Scott points to ExxonMobil, which has expressed interest in expanding its chemical business at its north Baton Rouge facilities.
"You have some really huge employers in our area that are constantly spending money to build or expand their plants. Our economy relies heavily on these very capital-intensive industries for employment, taxes, income, everything," Scott says. "We are vulnerable in terms of them not expanding in the future because the price of their imports has gone up so much."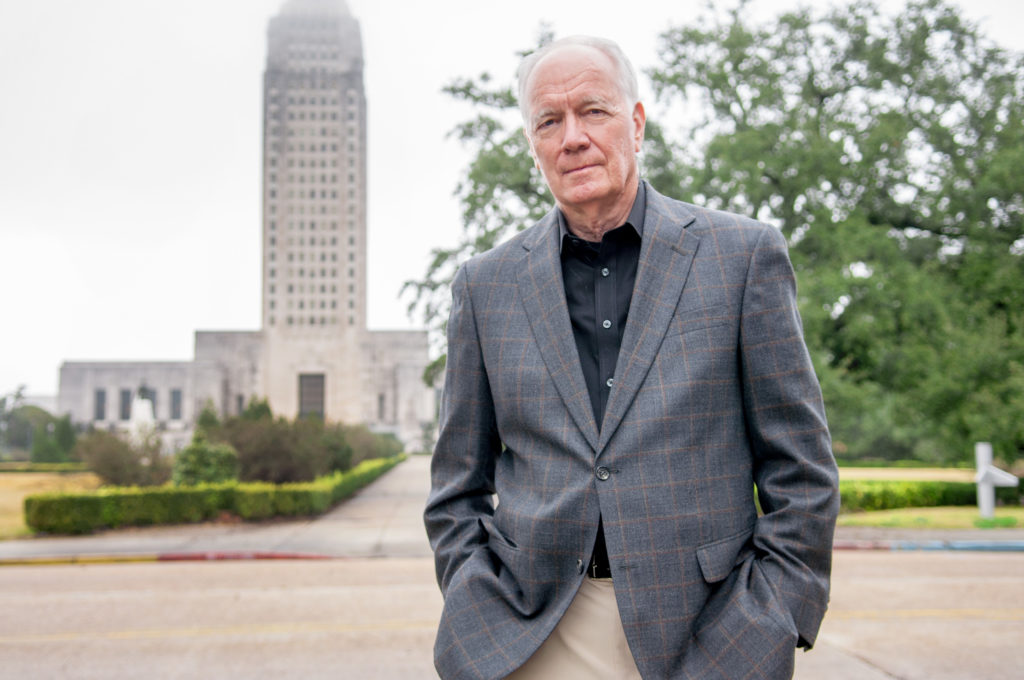 ---
Exporting issues
A full-fledged trade war would also mean China seeing artificially high prices on U.S. exports, including natural gas products generally considered inexpensive in the global market. These inflated costs abroad would make the U.S. less competitive in its exports, Fitzgerald says, creating a net negative effect that will harm the Baton Rouge area "pretty strongly."
Louisiana exports more than 20 billion agricultural products annually, says Caitlin Cain, CEO of the World Trade Center of New Orleans. Most are soybeans that go to China. In 2016, the state's total exports equaled over $48 billion, the bulk of which went to China, California and Mexico.
Cain says the state is a top 10 exporter, especially for grain, seafood, rice, oilseed, petrochemicals, rubber and resins—many of which could see higher tariffs.
"On one side, we're being hurt because things we used to buy from China for cheap are now going to cost more," Fitzgerald says. "On the other side, things that we sell to China, if they impose these tariffs, are going to have a higher cost as well."
In 2017, the Port of South Louisiana exported 307 million tons of grain, crude oil and petrochemicals. While about $23 billion in announced future projects are on the line, Paul Aucoin, the port's executive director, said his exporters remain optimistic.
Aucoin says he was "quite surprised" by one large grain exporter's reaction: There isn't enough grain in South America or wherever else China will start buying from, the exporter reasoned, so the country will eventually have to come back to the United States for the rest of their grain purchases, making it a simple issue of supply and demand.
The crude oil segment doesn't anticipate being affected to any great degree, Aucoin says, unless those oil companies need to purchase steel to expand their operations. The petrochemical industry is still working to determine the impact of higher tariffs.
On the flip side, the Port of South Louisiana oversees two steel companies that would benefit from a Chinese steel price surge—an advantage supporters of Trump's plan say is long overdue.
Will it happen?
Is a trade war something Baton Rouge area industry professionals should worry about?
The answer, says Scott, depends on how one views the actions of the president. On one hand, Trump may be stressing a need to protect domestic industry by raising tariffs. If that's the case, then there's "a very real probability" the two countries will escalate into a trade war. Then again, tariff threats may simply be a Trump negotiating ploy, which is Scott's view, given the president has been exempting all of this country's key trading partners from the tariffs except China.
Until any agreement is set in stone, though, all local industry can do is wait—or apply for exemptions.
"What looked like it was going to be horrendous at first turned out to be not so horrendous, but still dangerous," Scott says.