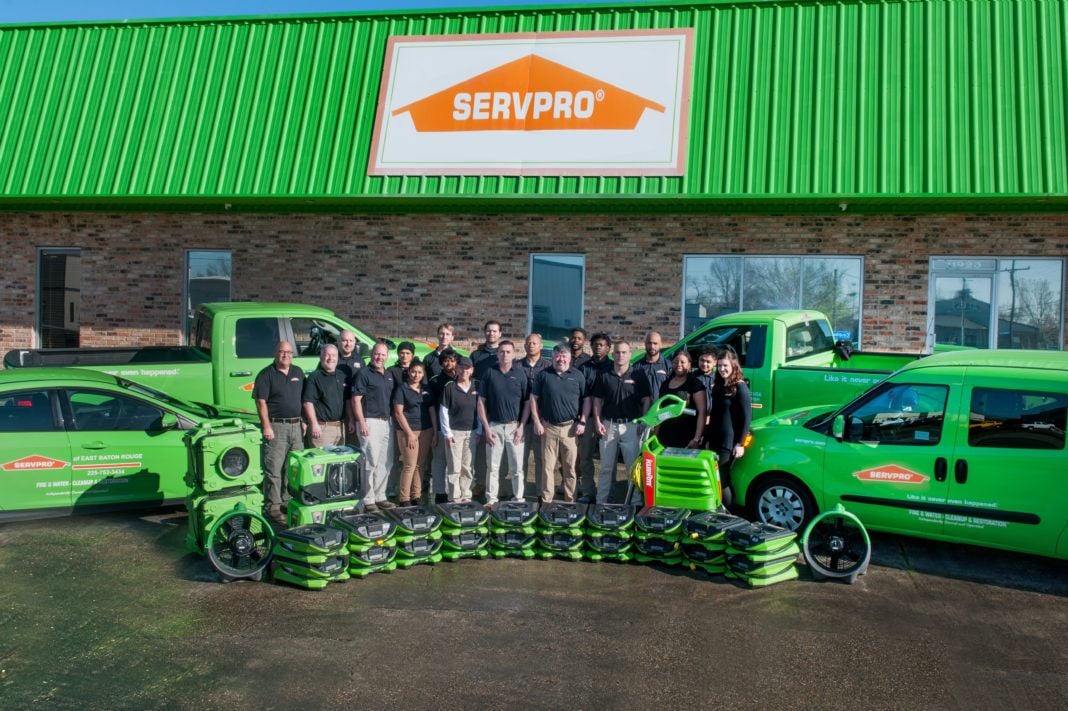 From busted pipes, overflowing sinks and grease fires to catastrophic floods, hurricanes, tornadoes and freezes, SERVPRO of East Baton Rouge/Ascension Parish is ready to respond to any size disaster.
SERVPRO provides restoration, cleaning and reconstruction for fire, water, mold and storm damage for residential, commercial and industrial clients. It is also experienced in the insurance claims process and can offer assistance to the homeowner to help minimize stress and anxiety that can come from having to deal with a loss. With highly trained technicians and advanced technology, SERVPRO responds to any size disaster 24 hours a day and seven days a week. Most of the company's work is in East Baton Rouge and Ascension parishes and surrounding areas. Technicians also travel for storm work and the company is looking to expand into nearby markets.
AT A GLANCE

PRIMARY PRODUCT/SERVICE:
Disaster restoration, cleaning and reconstruction services

TOP EXECUTIVE:
Darren Burychka, President and Owner

Year founded: 1997
Phone: 225.753.3434
Website: servproeastbatonrougela.com
SERVPRO has performed clean-up and restoration for local hospitals, restaurants, universities and large commercial facilities, where every minute the customer is unable to operate due to fire or water damage can mean a loss of productivity and revenue.
SERVPRO also works with residential customers who often have been displaced due to the damage caused by a fire and/or water emergency.
"Our primary concern is for the homeowner or business owner," says President and Owner Darren Burychka. "We respond with a sense of urgency to minimize the extent of the damage, and begin mitigating the loss with state-of-the-art meters and equipment so we can begin the repairs as soon as possible. This is all done in an effort to minimize the interruption to their home or business and get them back to normal."
Burychka began working at SERVPRO in 1997, when his parents started the company, and he became part owner 10 years ago. In January 2020, he acquired sole ownership of the company.
"SERVPRO started as a family-owned business and it has been passed down to the second generation," Burychka says. "I'm proud to take it forward and continue to expand. We are proud of the team we've built and are extremely excited for what the future holds."
Recently, Burychka has expanded the SERVPRO footprint in the commercial sector. This includes purchasing a 5000 CFM Desiccant/175 KW generator, a large-capacity dehumidifier used for drying out large commercial buildings. The Desiccant is trailer-mounted, reducing response time to disasters; a fast response lessens the damage, minimizes further damage and reduces cost.
"Owning the Desiccant allows us to respond to larger losses in a reduced amount of time," Burychka says.
"In the past, we would have to rent a large-capacity dehumidifier when needed, which can sometimes be difficult to find during major events such as floods and hurricanes. Having our own large-scale equipment removes that step, so we can service our customers' needs right away."
SERVPRO also has grown its construction division, enhancing the company's ability to provide a complete service experience for customers. "We handle everything in-house, which means our customers don't have to search for a contractor to rebuild their home or business after the mitigation has been completed," Burychka says. SERVPRO holds general contractor licensing with LSLBC in mold, residential and commercial construction.
SERVPRO is also certified by the Institute of Inspection Cleaning and Restoration Certification (IICRC), which sets standards for the industry, and the company's staff holds IICRC certifications for water, fire and mold.
"We have a well-structured team with the experience and certifications needed to service a customer's needs quickly and efficiently, with an attention to detail," Burychka says. "SERVPRO has an inviting and positive culture. We take pride in our brand." 
---