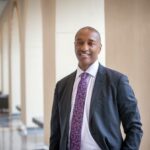 New LSU President William Tate on Tuesday selected College of Science Dean Cynthia Peterson to serve as "special advisor on science"—a new position that represents another strategic move as he settles into the role.
"The special advisor on science ensures that the university's priorities in science and research will always remain at the forefront, crossing campus boundaries to enhance collaboration, innovation and impact," Tate says in a prepared statement. "Dean Peterson will serve as a critical member of my senior cabinet and help to build new relationships across the flagship campus and all eight LSU institutions."
This adviser position highlights Tate's focus on academic research and sets LSU on a new, strategic direction, according to the LSU press release. 
"Now more than ever, we see the value of research and the importance of building a next-level scientific community," Peterson says. During her tenure at LSU, she has led efforts to improve student recruitment in math and science programs, and serves as co-principal investigator on two large research projects.
The move is Tate's second in his effort to shift the university's focus, after he removed Stacia Haynie from her No. 2 post as executive vice president and provost last week. Those familiar with the situation told Daily Report that Tate is likely looking to replace Haynie with someone who has a higher national profile and track record snagging major research grants, which was not seen as Haynie's forte. See the LSU announcement.