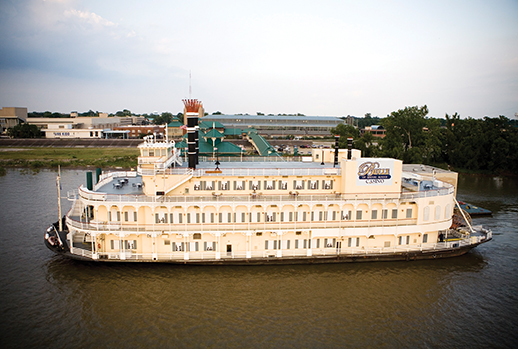 November was another losing month for the Baton Rouge casino market. For the 16th-straight month, collective revenues at the Belle of Baton Rouge, Hollywood Casino and L'Auberge were down compared to the same month the year previous.
At roughly $18.7 million, combined revenues were down 12.3% last month, or about $2.6 million, according to the latest monthly gaming report from the Louisiana Gaming Control Board.
As has been the case for much of this year, the Belle of Baton Rouge posted the largest year-over-year percentage decline. Its revenue dropped by 30.4% to $2.7 million last month. Meanwhile, Hollywood saw its revenue fall by 14.8% to $4.2 million, and L'Auberge revenue fell by 5.6% to $11.8 million.
Of the four riverboat casino markets in Louisiana, Baton Rouge was the only one to post a year-over-year revenue decline in November.
Revenue at the six boats in the Shreveport/Bossier City market rose 1% to $49.6 million; Lake Charles' three boats brought in $61.8 million, a 0.6% increase; and the three casinos in New Orleans posted a 1.6% gain to $21.4 million. Nonetheless, the decline in Baton Rouge dragged down statewide year-over-over revenue by 0.9%, to approximately $151.4 million.
Read a recent Business Report cover story on the struggles the Baton Rouge casinos have experienced in recent years, and check out the complete November casino report.