Sponsored by LSU Flores MBA Program
A new corporate partnership through the Flores Executive MBA Flex Program offers students the opportunity to work on consulting projects that utilize their classroom skills on real world business issues.
The LSU Flores MBA Program is competitive and highly regarded in national and regional markets, fostering learning, leadership, and networking in a global business environment.
In March 2021, Baton Rouge-based company Smalls Sliders partnered with the students in LSU's Flores Executive MBA Flex Program to host a business challenge event. This virtual competition gave students a chance to work on a short-term consulting project and present results to the partner company.
---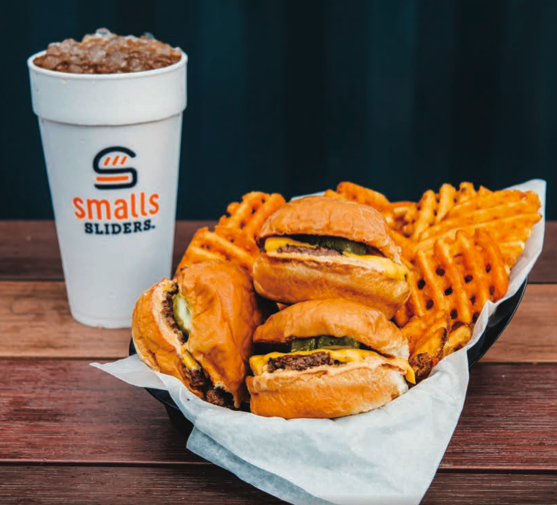 Smalls Sliders is a streamlined operation specializing in cooked-to-order premium slider burgers. The restaurant is a partnership between New Orleans Saints Quarterback Drew Brees, Walk-On's Bistreaux & Bar co-founder Brandon Landry, Jacob Dugas (MBA'12) and Flores MBA Instructor Scott Fargason. "The talent within the Flores MBA Program is the same type of talent we aspire to include in our business. I'm confident that this partnership will help us to make prudent decisions moving forward as we look to expand our footprint in Baton Rouge," says Smalls Sliders co-founder Jacob Dugas, LSU Flores MBA class of 2012. Located conveniently on Nicholson Drive, Smalls plans to open a second location soon in the Bluebonnet Village Shopping Center.
In preparation for the Business Challenge, teams of students spoke with Small Sliders company representatives to discuss the challenge, project scope, and industry-relevant information.

---
The Flores Executive MBA Flex format provides new opportunities for its students. "Throughout the Flores EMBA Flex Program, students have opportunities to work on consultative projects with companies, delivering solutions to those companies in real-time," Flores MBA Director Dana Hart says. "This level of experiential learning allows our students to not only add value to area companies, but it's also a great way for the students to consistently work with a network of peer MBA students to maximize the overall potential of their MBA experience."
Chris Stogner, the Safety & Critical Control Leader at Triconex and a student in the Flores EMBA Flex class of 2022 was thrilled with the experience. "The opportunity to work with Smalls Sliders in a consultative manner helped ingrain the learnings from academic material by putting it to work in a real-world application," Stogner says. "The business challenge format fostered an environment of healthy competition, and the diversity of talent among the teams allowed us as students to learn from each other's experience as well as provide Smalls Sliders with a broad range of meaningful recommendations to help achieve their goal of growing their business in a structured and profitable manner."
Like Small's, other businesses partnering with Flores EMBA Flex students will bene-fit from the program with fresh ideas and in-put from tomorrow's industry leaders. In the Flores EMBA Flex Program, students will have an opportunity to gain insights with some big companies throughout their time at LSU:
• Acadian Ambulance
• Ochsner Medical Center
• Houston Rockets
---

LSU's Flores MBA Flex Program offers full-time, one-year, and online tracks with schedule flexibility for those wishing to pursue their MBA from a nationally recognized program. Click here to learn more and follow @LSUFloresMBA on social media.