Flooded business owners realizing business interruption insurance won't do any good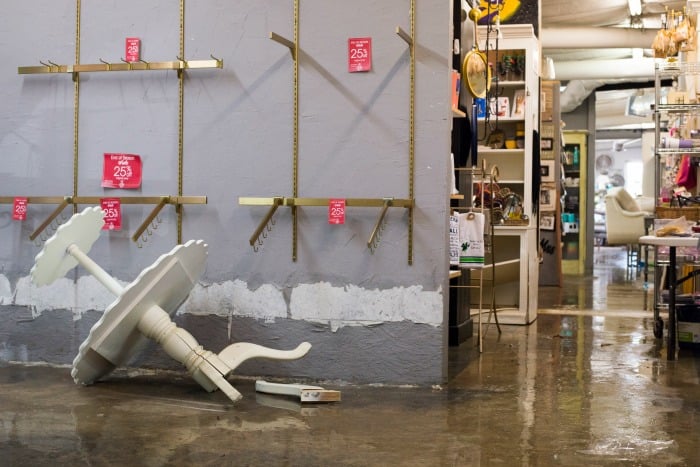 As business owners begin cleaning up and assessing the damage from their flooded establishments, they're also being hit by another hard reality: business interruption insurance policies exclude floods.
For Mark and Krista Peirce, owners of The Royal Standard, the flood exclusion issue is exacerbating what is already a difficult situation. The company's flagship store and antiques warehouse at 16016 Perkins Road took in nearly three feet of water last weekend. Mark Peirce estimates that the loss of contents alone will top $500,000, and that's not including the fact that the store has been shut down since last Friday.
"We've been closed for nearly a week now and there's no end in sight, really, when we can reopen," says Krista Peirce. "Business interruption is one of those things on your policy. I assumed it covered any interruption. I assumed erroneously."
Many business owners, particularly small business owners, have made the same mistake. But insurance industry experts say business interruption policies have always excluded floods and that, really, it shouldn't come as a surprise.
"(Business interruption) is a coverage that is part of your property insurance and, as everyone in the state ought to know after Katrina, Rita, Gustav and Ike, flood is not covered under property," says Jeff Albright, CEO of the Independent Insurance Agents and Brokers of Louisiana. "Hence, BI does not apply. There is no BI for flood."
Hi Nabor Supermarket on Winbourne Avenue is another flooded establishment that has been shut down since last weekend and won't be able to recoup the losses from its business interruption policy. Unlike The Royal Standard, Hi Nabor doesn't have flood insurance.
Jan Crifasi, whose family owns the three-store supermarket chain, estimates that the loss of merchandise at the Winbourne location will total well over $200,000. That's not including damage to the building, which not only had its floors ruined by flood waters but had its doors destroyed by looters.
"We'll take out a loan and we have Associated Grocers to help us," Crifasi says. "We gotta do what we gotta do to get it cleaned up and start putting it back together."
While the Small Business Administration is making low-interest loans available for affected businesses, Albright says the best advice he can give business owners at this point is to learn from their mistakes and get flood insurance for the next disaster.
"On average from year to year, about one-third of flood claims happen outside of flood zones," Albright says. "So people who kid themselves into thinking they don't need flood insurance are making a bad decision."
—Stephanie Riegel