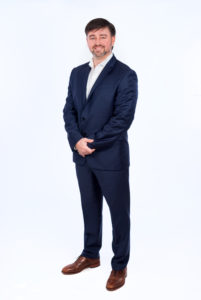 With two rapidly growing businesses, Steven Davis Jr. is a meticulous planner who is always on the go, both in his professional and personal life.
The 41-year-old husband and father of two boys—one 6 years and the other 6 months—rises at 6 a.m. on most days, fixes the boys' breakfast with his wife, Adele, and then hits the gym.
"I make some calls while I'm on the treadmill," he says, adding that it's only after a shower and a Smoothie King breakfast that "I am rolling for the day." Since founding Facilities Maintenance Management in 2012, the Catholic High and LSU grad has worked day and night to make the maintenance and construction company successful—and his efforts have been paying off. For the fourth straight year, the company recently landed on the Inc. 5000 list of the nation's fastest-growing companies, at No. 2,070 with $11.8 million in revenue last year (215% growth over the year previous).
He's also a co-owner of Anytime Flooring with Tony Thibodeaux, who founded the company in 2009. It has grown by 350% since Davis partnered in the venture in 2014.
"In most rapid growth companies there really is not a healthy work-life balance for the founder/CEO unless it is part of their daily," he says. "Plan your work time and family time, put it on the calendar, and the likelihood of success will drastically increase."
Read the full Executive Spotlight Q&A with Davis. Here's a sample of what you'll find:
Can you name someone who has had a great impact on you as a leader, or someone who has been a mentor to you in your life or career? How have they changed your outlook?
"Growing up, my dad, Steve Sr., was an auto mechanic who worked hard for every dime to provide a good life for our family. He constantly told me that I could do anything or be anything I wanted in life. I heard that so often I started believing it. This totally changed my outlook and ultimately my career path. In life or business, you have to believe—without a doubt—that you will accomplish what you set out to do. This type of thinking is a must for entrepreneurs to be successful. To the contrary, negative self-talk is the killer of dreams and success."