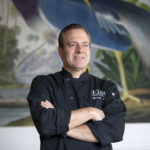 Boston native Russell Davis began his career as a stockbroker but eventually traded his cold desk in Massachusetts for a hot kitchen in the Big Easy, a journey that would eventually lead him to open two Baton Rouge restaurants.
As Business Report details in its new Entrepreneur feature, Davis trained for nearly 16 years at various New Orleans culinary institutions, including Commander's Palace, where he met his wife, Sally, and learned the ropes of the restaurant business from members of the Brennan family.
He went on to operate restaurants in California and Boston, and later in New Orleans, before moving to Baton Rouge in 2015 to be closer to family. In late 2016, the Davis' opened Eliza Restaurant & Bar on Jefferson Highway, serving small plates of contemporary Creole fare.
With Eliza off and running, Davis began working on plans for additional restaurant concepts in Baton Rouge that could replicate its success.
In December, the couple opened their second Baton Rouge restaurant, JED's Local Po-boys, in another Jefferson Highway space about two miles down the road from Eliza.
Davis says he hopes to open two more independent concepts in the area over the next four years.