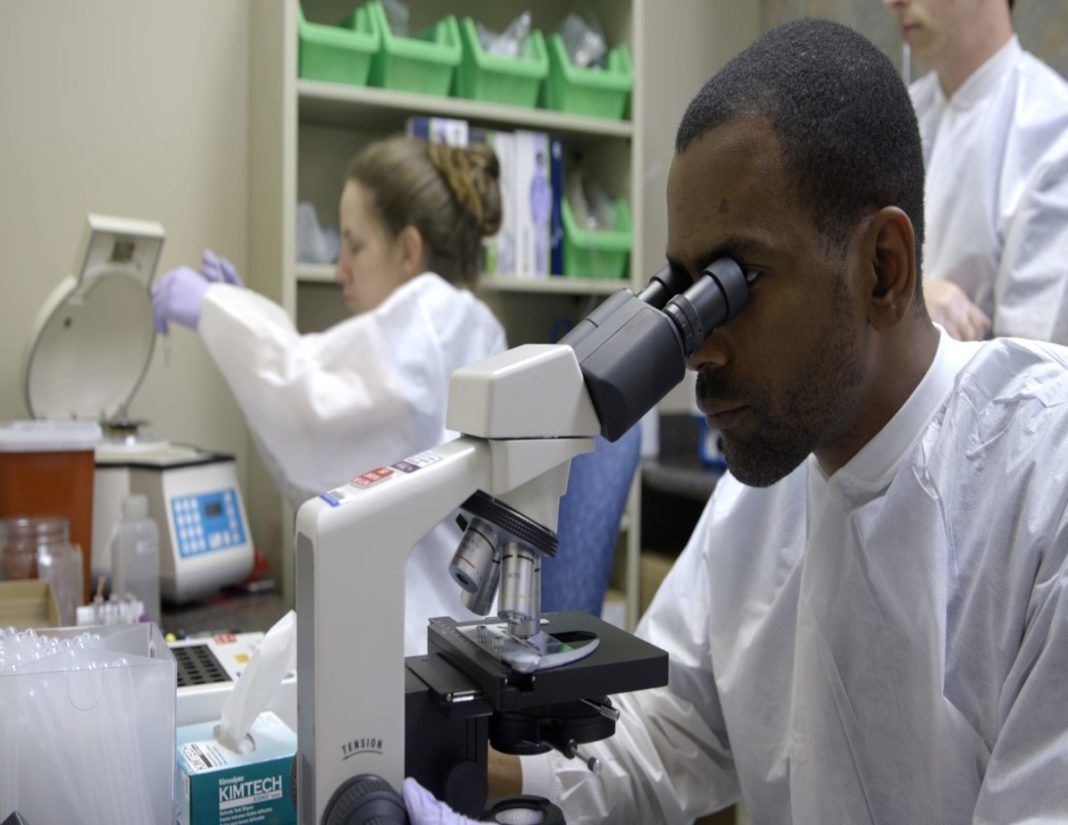 Sponsored by

By Deborah Fox, PhD, MT (ASCP)
Medical Laboratory Science Program Director
Franciscan Missionaries of Our Lady University (FranU)
Since the World Health Organization (WHO) declared the novel coronavirus a pandemic on March 11, 2020, the words "COVID-19 testing" have become a fundamental part of every U.S. citizen's vocabulary. Each day, news sources report the number of new coronavirus cases, the number of new deaths and total deaths, as well as the number of coronavirus tests performed. These testing results have shaped the very foundation of U.S. society by providing data to the White House Coronavirus Task Force and state leaders. This data is used to make pivotal decisions about public health and the nation's economy. Such decisions have resulted in life versus death outcomes for loved ones and have had a vital impact on our personal finances.
Because COVID-19 is a respiratory disease, it can only be diagnosed through the collection of a nasal swab. We have all seen images of healthcare workers collecting nasal swabs, but have you ever wondered what type of healthcare professional is actually performing the tests on those swabs? Within the laboratory are unseen medical laboratory scientists who carefully analyze a variety of biological specimen types using specialized skills and sophisticated instrumentation. Information from the analysis of clinical specimens can provide data critical for patient diagnosis, treatment, prognosis, or disease prevention. The medical laboratory scientist (MLS) works as an integral member of the healthcare team and touches the lives of every patient.
The term "COVID-19 testing" has been used in the media to encompass a variety of components, which may require some clarification. Testing may be used to refer to the drive-thru testing sites, which are strictly nasal swab collection sites, or it may refer to the actual laboratory tests. Lab tests include both the genetic test used to detect the viral particles and the antibody test used to detect antibodies formed to the virus. Medical laboratory scientists perform both of these tests.

Diagnostic testing within hospital labs
At the forefront of the pandemic, genetic testing was not available in hospital labs. However, hospital labs worked quickly to acquire the necessary equipment and reagents. Performance of COVID-19 testing by an MLS within these labs is especially vital because it provides emergency room physicians with rapid testing results for patients with suspect respiratory symptoms. If test results are positive for COVID-19, patients are placed in COVID-19 designated rooms to receive specialized care. This process not only provides the most rapid and ideal treatment for the patient, but also protects family members, other hospitalized patients, and healthcare workers from the infection.
We have all heard the news reports about the challenges the lab faces when acquiring the necessary testing reagents. The unavailable or delayed testing in the case of coronavirus could be the loss of human lives. Without hospital-based lab testing results, direct patient care providers are handicapped. In addition, unnecessary waste of personal protective equipment (PPE) and other critical resources is likely to occur because symptomatic patients may require interim isolation if their COVID status is unknown.
Antibody testing and convalescent plasma
Antibody testing is performed on blood collected after a patient recovers from coronavirus infection. Positive results indicate that the patient has had a past infection with COVID-19. Convalescent plasma is a blood product collected from recovered patients. It is being used to treat hospitalized patients suffering from current COVID-19 infections, although the exact clinical impacts of such treatments are still uncertain. Medical laboratory scientists and the laboratory team within the blood bank department collect, test, manage and issue such convalescent plasma. Thus, not only are medical laboratory scientists among the most essential healthcare workers in the diagnosis of COVID-19, but they also play critical roles in providing blood products used in the treatment of patients with COVID-19.
Importance of medical laboratory science
Because the results obtained from COVID-19 testing govern the nation's current and future health until a vaccine can be developed, the field of medical laboratory science has become the cornerstone of healthcare during the COVID-19 crisis. Though medical laboratory scientists typically do not have face-to-face contact with patients, they are the unsung heroes performing these crucial tests that guide patient care decisions each day. Almost all patients, whether hospitalized, ill, or just in for an annual checkup, require laboratory testing. Some routine tests performed by an MLS include:
• Blood cell counts
• Blood typing and donor testing
• Chemistry panels and hormone levels
• Therapeutic drug monitoring and drugs of abuse detection
• Hepatitis and HIV testing
• Bacterial cultures and viral testing
• Urine evaluations
It is difficult to imagine how modern medicine could function without the quick availability of reliable results from the MLS profession.
Personal attributes of a medical laboratory science professional
In this time of uncertainty, many people may be considering alternate career options. Medical laboratory science is one consideration but is a career unknown to most people. What type of person might choose a career in MLS?
The type of personal characteristics that lead to success in MLS include:
• Sharp critical thinking and problem-solving
• Meticulous attention to detail
• Effective intrapersonal communication skills
Critical thinking and problem-solving are essential, especially in the evaluation of abnormal patient results, which may require additional verification, advanced follow-up testing, or manual assessments. Because the production of accurate, quality results is at the forefront of laboratory testing, following complex procedures with great attention to detail is a necessity for medical laboratory professionals. In addition, the MLS must be able to communicate about testing protocols and critical patient results with colleagues and members of the multidisciplinary healthcare team such as nurses and physicians accurately.
Employment opportunities in medical laboratory science
According to the U.S. Bureau of Labor Statistics, employment of medical laboratory scientists is expected to increase 11 percent over the next decade, much faster than the average for all occupations. A greater need to diagnose medical conditions through lab testing is projected due to the growing number of patients within the aging population. Although the most common employment site for medical laboratory scientists is the hospital lab, opportunities expand far beyond the hospital to include public health labs, physician offices, industrial/research labs, biotechnology labs, and crime labs. In the wake of the COVID pandemic, healthcare employment opportunities will continue to be abundant.
While the long-term repercussions of COVID-19 are mostly unknown, one thing remains certain: MLS professionals will always play a crucial behind-the-scenes role in American healthcare even after this crisis has passed.
---
Are you interested in making a difference in the lives of our future healthcare heroes? Please visit franu.edu/giving to learn ways of how you can make an impact.