Cook: Light industrial prices rise near Cloverland area

It's no surprise to anyone active in the light industrial real estate market that sale prices and rentals are increasing. Several sales in the Cloverland Avenue area give hard evidence to rising prices in that sector.
Demand for office warehouse users has increased rather dramatically, as evidenced by a sample of eight sales in the Cloverland area. Four occurred from late 2010 to early 2011 with prices ranging from $50 per square foot to about $64 per square foot. 
The other four sales, taken from late 2013 to early 2015, showed sale prices from $73 per square foot to about $95 per square foot.
The sales are summarized in the table below.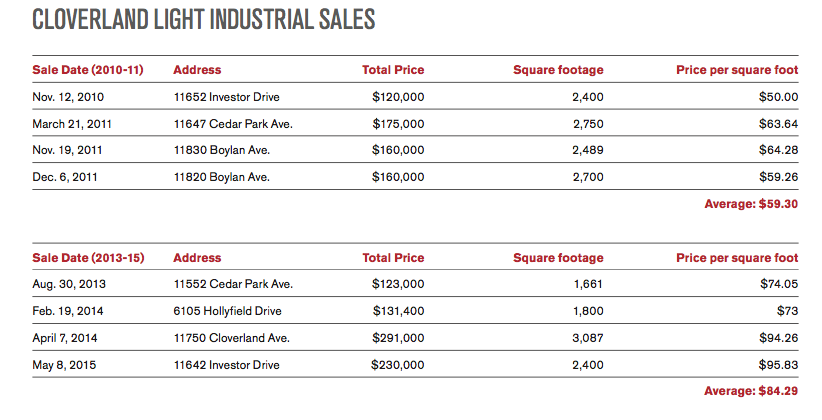 (Graphic by Carolyn Valentine Blakley)
New subdivision planned
Local architect Michael Hogstrom has purchased a 1.7-acre site on Lobdell Avenue with plans to develop it into a 6- to 10-acre high-end subdivision.
Hogstrom, through a holding company called LA7 LLC, bought the property from Winston and Patricia Riddick in a sale that closed May 8 for $650,000, or about $8.75 per square foot. The plot, which has a single family residence on it, is located on Lobdell Avenue just off Jefferson Highway and adjoins the property occupied by Stone Gallery.
Hogstrom was responsible for E'tage Gardens, a well-received development off Government Street near Jefferson Highway. His new proposed development has yet to be named.
"We will do six to 10 lots in the 6,000- to 8,000-square-foot range that will be marketed for between $150,000 and $200,000. Home prices should range from a low of $500,000 to a high of about $800,000—higher end than what we did at E'tage," Hogstrom says. "Demand has been strong enough for us to make plans to develop 50 to 100 lots by the end of 2016. We are really pushing the development arm of our company right now."
Reintjes Services moves
Reintjes Services, a refractory material installation company, is moving out of its Cornerview Road office in Geismar and into a 31,000-square-foot building at 2831 Darla Ave. in Gonzales.
The company was founded in 1983 in Mobile, Alabama, and has locations in Ascension Parish; Theodore, Alabama; Columbia, South Carolina; Winter Haven, Florida; and Overland Park, Kansas.
A refractory material has a high resistance to extremely hot temperatures. It is installed on structures or components that are exposed to environments above 1,000 degrees.
Reintjes will occupy the new building as soon as the landlord does some improvements, like upgrading the electrical service and installing new carpet and paint, to accommodate the industrial user.
Matthew Shirley with Saurage Rotenberg Commercial Real Estate, and Drew Pearson with Waters and Pettit Commercial Real Estate teamed up to lease the property.
"This building was previously occupied by Broussard Paper, who has consolidated to their Baton Rouge location. We received a lot of interest in the building from the time we began to market it, but most users required massive improvement to the building, and/or additional lay-down yard above the existing site area," Shirley says.
"It was a good deal for the owners based upon the lease term, minimal improvements—all of which improved the building but were not tenant specific—and comfort level in the strength of Reintjes. The tenant was happy because it was the best deal in Gonzales by a long shot."
Tom Cook of Cook Moore and Associates has been an independent real estate appraiser for more than 20 years.