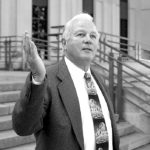 Edwin Washington Edwards, the high-living four-term governor whose three-decade dominance of Louisiana politics was all but overshadowed by scandal and an eight-year federal prison stretch, died this morning. He was 93.
Edwards died of respiratory problems with family and friends by his bedside, family spokesman Leo Honeycutt says. He had suffered bouts of ill health in recent years and entered hospice care this month at his home in Gonzales.
"I have lived a good life, had better breaks than most, had some bad breaks, too, but that's all part of it. I tried to help as many people as I could and I hope I did that, and I hope, if I did, that they will help others, too. I love Louisiana and I always will," Edwards said in some of his last words, according to Honeycutt.
Earlier in the week, the former governor also said, "I've made no bones that I have considered myself on borrowed time for 20 years and we each know that all this fun has to end at some point." For him, that time was shortly after daybreak this morning, the statement said.
Edwards, the "Cajun King," was known for delivering a steady supply of memorable one-liners as well as for his deft political instincts. Infamously, the lifelong Democrat said once that the only way he could lose a race against a particularly lackluster Republican was if he were "caught in bed with a dead girl or a live boy."
A native of the Acadiana region who swore his 1972 oath of office in French and English, Edwards enjoyed renewed popularity after emerging from prison in 2011 at age 83. His quick wit and flamboyant character intact, he married Trina Grimes, then 32, his third wife. They met when she began visiting him in prison after they struck up a pen-pal relationship.
"I would have walked into prison a happy man had I known how it was going to end," he said at his lavish 90th birthday bash in August 2017.
They had a son, Eli, in 2013—Edwards' fifth child—and starred in a short-lived reality TV show, The Governor's Wife. The lifelong Democrat also attempted a political comeback, losing a runoff to a Republican in a south Louisiana congressional race in 2014.
The federal case that led to his May 2000 conviction involved state riverboat casino licenses awarded during and after his fourth and final term in the 1990s. Edwards maintained the case was built on misinterpreted, secretly taped conversations and the lies of former cronies who made deals to avoid jail.
Silver-haired and gifted with a dry sense of humor and easy charm, Edwards dominated Louisiana politics in the late 20th century much as Huey P. Long had dominated its earlier years. They shared a populist appeal to the state's downtrodden, and political fortunes that flowed in part from taxes on oil. 
Read the full story about Edwards life from the Associated Press.