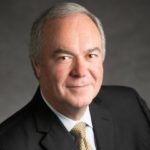 How is it that areas of Baton Rouge and homes that did not used to flood, now flood? And why is it that hundreds of millions of dollars have been approved for numerous projects and some—Comite Diversion Canal—aren't yet finished after 40 years? 
The answers lie in a crime of negligence, incompetence, stupidity, a lack of leadership and drive or even worse, writes Business Report Publisher Rolfe McCollister in his new opinion piece. 
Baton Rouge residents need to ask, "is our drainage system substandard, and are the regulations and mitigations faulty, or is the problem that some in local government are too busy providing waivers for the politically connected?"
McCollister is clear on one point: Fred Raiford, who is over transportation and drainage for the city-parish, is part of the problem, not the solution.  
It has been 4 1/2 years since the Flood of 2016, McCollister writes, and recent flooding was worse in some areas despite city officials' claims that flood prevention is a top priority.
Mayor Sharon Weston Broome needs to take action and hire the best transportation and drainage expert in the country—even if that means paying a top salary (more than her own). At present, what our city, state and Corps of Engineers is doing—or not doing—is costing all of us millions of dollars in losses. 
McCollister also writes about the efforts of the Louisiana Storm Water Coalition. The Baton Rouge-based grassroots organization purchased a litter-trapping boom with private donations and will place it in Bayou Fountain just upstream from the paddle boat launch at BREC's Highland Road Park.
This group is trying to figure out who can clean the boom regularly and is talking to BREC, but McCollister argues since the boom will capture trash that began on the streets before being swept into the storm drains and then the waterways, that public works should do it. DPW is responsible for the litter and trash on our streets. And if this is the same trash the boom will gather then DPW should handle it. 
Lastly, in his column, McCollister—before congratulating the Top 100 private companies recognized in the latest edition of Business Report—writes that he's leaning toward opposing the CATS property tax renewal that will be on the Oct. 9 ballot. This isn't about defunding the bus system or eliminating public transportation to those who need it, but it is about defeating a tax so that the agency can then come back with a far more reasonable millage rate and a plan for more efficient operations, he adds. His advice: Consider privatization. 
Read McCollister's full column from the latest edition of Business Report. Send comments to editor@businessreport.com.