The renovation revival of Kenilworth Shopping Center
CHANGE AGENT: The opening of Superior Grill has pumped life into the Kenilworth Shopping Center, and General Manager Brian Whitley says the restaurant is focused on engaging with the community to

 

build on its early success. (Photo by Collin Richie)
---
When Luxe Salon owner Greg Metzler bought the building on a lot fronting the Kenilworth Shopping Center 13 years ago, he was scared.
Neither he nor his husband, with whom he's run the hair salon for the past 20 years, were from the Baton Rouge area, and the shopping center, built in the 1960s, looked dated and run-down. It was 2005, so why didn't it look like it had been updated in the past 40 years?
"We were kind of scared at first, but we got such a great price on the building," says Metzler, whose salon is located on an outparcel of the center.
Though the asking price was nearly $700,000, Metzler got the price knocked down by 50%, paying the full $350,000 in cash. He says they were the first interested buyer that wasn't a bank.
Looking back on those early years, Metzler, as well as the tenants who have since trickled in, have witnessed the physical and economic changes the shopping center has undergone. The center houses five tenants: Superior Grill, Robért Fresh Market, Max Fitness, Inspired Martial Arts and Quantum Mail & Ship.
"I would say within the past nine months the activity started picking up," says tenant Wanda Owens, who owns Quantum Mail & Ship. "When you come here in the evenings, especially Thursdays through Sundays, the shopping center's just packed."
Its transition from dilapidated space to neighborhood hotspot wasn't an overnight success, but rather a strategy that has gradually unfurled over the past several years, catalyzed by the overlapping entrances of Robért Fresh Market and Superior Grill—two strong anchors that have filled the once near-empty parking lot.
"With neighborhood shopping centers, it doesn't matter what stores are in there, as long as the anchor fits for that demographic," says Jonathan Walker, a broker with Maestri-Murrell Commercial Real Estate.
Finding that "perfect fit" hasn't been easy for the Kenilworth Shopping Center, located on Highland Road. For years, it was plagued with vacancies and an unkempt exterior. But over the past year-and-a-half, it has undergone extensive renovations and has maintained a 100% occupancy rate.
How did Kenilworth do it? More specifically, what sparked its growth, what are the effects of that and how will the shopping center maintain its newfound vitality?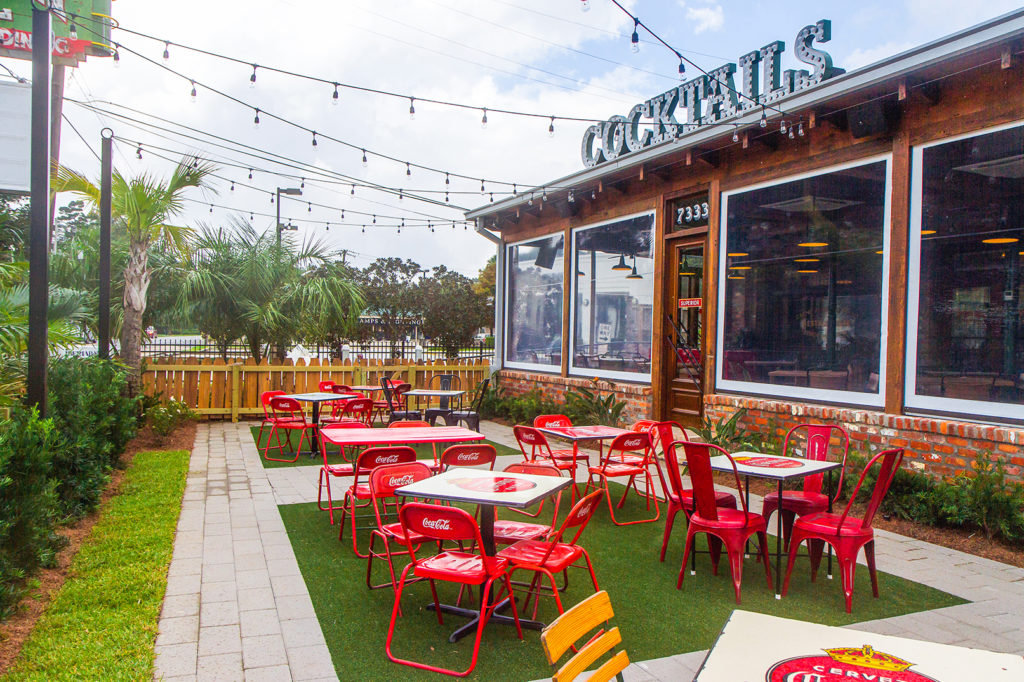 ---
A new look
With the shopping center's new anchors came a new look. Superior Grill revealed its plans for a Highland location in May 2015, and Robért Fresh Market announced it would replace the Matherne's Supermarket in February 2016. However, the rebranded grocery store materialized a year before the restaurant.
The agreement came with one key condition: more than $2.5 million in renovations on the Robért space, as well as a facelift for the entire shopping center.
"Our owner, Marc Robért, saw the potential here, and what had not been done here," says Garris Matthews, Robért's director of operations. "He saw the move as an opportunity to really update the shopping center."
First, the grocery store absorbed two of the shopping center's smaller adjoining units, one that used to be a barber shop and another that had been vacant. Designers and architects changed the building's decor and layout, ultimately adding 5,000 square feet of space.
The initial renovation, completed shortly after the chain took over the building, expanded the bakery and featured a boiled seafood area. The store later remained open during a second wave of renovations in spring 2017, which included a CC's Coffee House, outdoor seating, floral department and full-service bakery. Upgrades to the facility were completed in mid-June.
But the grocery store wasn't the only catalyst for change in the shopping center.
Historically, the restaurant site that once belonged to the ill-fated Arzi's Greek and Lebanese Cafe—and, before that, Monjunis Italian Cafe—seemed cursed. In the early 2000s, the building belonged to Giovanni's Italian Restaurant, which folded after several of its regulars hosted prostitutes in the restaurant's private meeting room. Monjunis went out of business in 2011. A fire blazed through Arzi's in 2014.
Needless to say, the site remained unoccupied for years before late 2017, when Superior Grill took over the space of the entire 7,000-square-foot building that fronts the shopping center and previously housed four tenants. The move was preceded by some 15 months of planning, followed by another 16 months of construction.
Brian Whitley, general manager of the Superior Grill location on Highland, says he trusted the judgment of the restaurant's owner, who selected the site after similarly seeing potential in the Kenilworth area, where he lived.
Chris Gremillion, the shopping center's leasing agent, says he thinks the New Orleans-based restaurant avoided the same fate as its predecessors by immediately changing its look to what has been described as a Mexico-meets-Americana concept throughout its interior.
"Restaurant spaces in general don't do well if you don't change the configuration," says Gremillion, whose father, Bill, was the center's leasing agent before him.
The only remaining eyesore is the parking lot, which is undergoing construction to accommodate all the new traffic attracted by Superior Grill. Though tenants say it's a hassle for customers at the moment, they're optimistic the end result will be worth the current inconvenience.
Overall, tenants view the makeover as a much-needed change. A few months ago, a new, more visually appealing shopping center sign went up with the correct names of all the tenants.
"When they redo a shopping center, it really helps all the businesses be more successful," says John Goodwin, who, along with his sister Christy, owns and runs tenant Max Fitness. "In today's world, having that curb appeal is such a big deal."
Shopping center manager Paul Bains says the building's renovations should be finished any day now.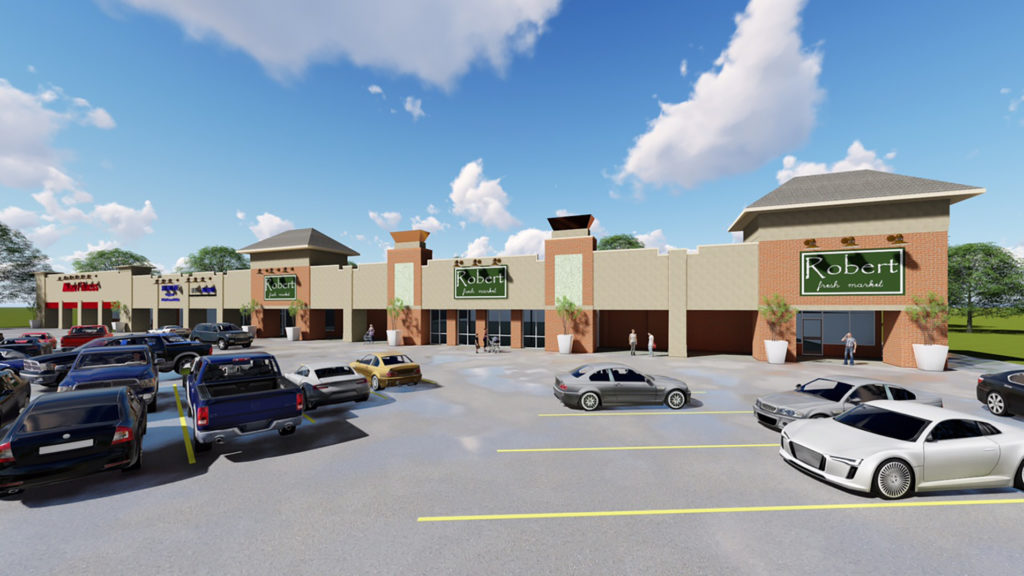 ---
Chain reaction
If you want to know how well the newly acquired grocery store and restaurant are faring, just ask the other tenants how they're doing, Walker says.
It's part of a chain reaction of sorts that appears to hold true for most shopping centers: If one does well, they all add more customers and sales rise.
For the time being, at least, tenants haven't seen a massive spike in revenue, which they mostly attribute to the parking lot reconstruction and current lack of signage. But they say there has been a slow and steady growth regardless, leading them to predict more revenue growth once the renovations are finished.
John and Christy Goodwin, the center's longest-lasting tenants, say Superior Grill's acquisition, in particular, has modestly helped their gym by making members feel even safer with more traffic. Every night after 7 p.m., security detail is parked outside, Christy says, leading more members to work out at nighttime than before.
In turn, Matthews says many Max Fitness members do their grocery shopping at Robért, buying power bars and energy drinks before and after workouts.
The mailing store's uptick in customers has been minuscule—maybe a 1% or 2% increase from Robért overflow, Owens estimates. However, Owens says that's still worth something, considering July and August are usually slower months for her and her business' name hasn't been on the building for the past three months.
From an outsider's perspective, Walker attributes heightened business activity in the shopping center to Superior Grill, which brings in the traffic. Whitley notes the restaurant, which is the eighth concept in the franchise, is "on par" with the others in terms of sales.
"When we talked to Robért and Luxe, we asked them, 'How has business been for y'all?' And their comment was, 'business is up,'" the general manager says. "That's what we like to hear. We like to provide a service not only for the customers coming here, but we like to know that we're affecting the surrounding businesses positively."
Love thy neighbors
"How was Italy?" Owens asks a man in scrubs as he enters her shop to pick up his mail. He just got married there, she explains, and she's known him since he was a little boy, when his parents began using Quantum Mail & Ship for all their postal services. "We know about what's going on in our customers' lives," she adds.
The mailing store serves many residents along the Highland Road corridor, made up of neighborhoods like Kenilworth, Woodstone, Woodgate and Walden. It's also those predominantly white, middle- to upper-middle class feeder neighborhoods that keep the shopping center financially afloat.
The way to succeed in the Kenilworth Shopping Center, tenants say—and experts agree—is to become fully integrated into the community. With a business model rooted in convenience by proximity, the center's customer base is its neighbors.
While Superior Grill is more of a destination spot than its co-tenants, Whitley says the restaurant's customer base is largely comprised of residents from nearby neighborhoods.
Aaron Keating, president of the Kenilworth Civic Association, says last year Robért catered the organization's annual meeting, while other tenants sponsored gifts and door prizes. Max Fitness also places advertisements in the association's quarterly newsletter.
"It's been a good relationship," Keating says. "It's nice for us to have our own hometown area within walking distance."