'We don't go into business to lose money'

(Photo by Collin Richie)
Commercial Properties, the real estate arm of the Baton Rouge Area Foundation, has sustained

significant financial losses

over the past decade, including a mortgage default on the Bon Carré Business Center. Now the company is banking on a

new

investment strategy

to rebuild its portfolio. 
---
On Aug. 15, attorneys for a northeastern-based investment trust bought back the nearly 800,000-square-foot Bon Carré Business Center for $10,000 in a foreclosure sale on the steps of the federal courthouse downtown. The auction lasted just minutes, an anticlimactic end to a lawsuit filed months earlier, when Bon Carré's owner—the Baton Rouge Area Foundation's real estate company, Commercial Properties Realty Trust—defaulted on a $36 million mortgage.
The lawsuit stunned the local business community. Bon Carré was the first major project the foundation had undertaken in the early 2000s after getting into the real estate development business. Moreover, it was one of the most ambitious—a former shopping mall-turned-budding-tech-park that CPRT had acquired out of bankruptcy to stabilize and enhance while also hoping to revitalize the surrounding low-income neighborhood.
As an investment, Bon Carré was always challenging because of its size and location. But everyone understood it was as much about making an impact as it was about making money, so no one expected BRAF's real estate company to walk away from it.
More puzzling, just four weeks after the lawsuit was filed, BRAF released its 2017 annual report showing the foundation's gross assets had climbed some 6.5% over the previous year to $650 million. As a practical matter, there wasn't any real connection, aside from the irony. Though BRAF owns CPRT through one of its support organizations, The Wilbur Marvin Foundation, BRAF has several support entities under its big umbrella. As such, most of its assets are restricted and can't be used to simply pay off CPRT's real estate debt.
But in the minds of Baton Rouge, BRAF and CPRT are one and the same, their missions distinct but inextricably intertwined. BRAF's power and influence help CPRT do real estate deals, several of which have transformed part of the Baton Rouge landscape for the better. CPRT, in turn, generates money for BRAF, some $20 million over the past 15 years. So the Bon Carré foreclosure raised a lot of eyebrows—and questions. If CPRT could default on the mortgage of one of its signature projects, what did that say about the company's financial stability, its investment philosophy and, more importantly, BRAF?
In one respect, it's wise not to read too much into the Bon Carré decision. Not only was it a move many developers would have made, but, on paper, it actually nets a financial positive on the company's books. The move is significant, however. Walking away from the project where CPRT—and BRAF, for that matter—made its initial mark on Baton Rouge is a clear signal that the real estate company is moving in an unmistakably new investment direction. One that likely won't involve any more philanthropic landscape-changing Baton Rouge developments.
Also read:

Declining occupancy, expiring tax breaks and a looming balloon payment seals Bon Carré's fate.
Whether by choice or to help cover the significant financial hit it sustained during the Great Recession, CPRT has sold most of its founding assets—primarily strip shopping centers that weren't exciting but for years produced steady income. Instead, it's betting the future on local public-private partnerships, such as the Water Campus, and a more diverse, and likely out-of-state, blend of investment-grade assets—mixed-use projects, apartment complexes, office buildings and some specialized retail—that, if successful, will generate the dollars necessary to help BRAF fund its various community initiatives.
It's a shift that's quietly been playing out for several years, with decidedly mixed results thus far.
Business Report analyzed more than a decade of 990 tax returns filed by The Wilbur Marvin Foundation and studied the BRAF audited financial statements available online. It also interviewed dozens of local business and real estate professionals, most of whom declined to speak on the record, as well as three key BRAF and CPRT officials who spoke for the company: BRAF President and CEO John Davies, who is also chairman of the CPRT board; CPRT attorney Charles Landry; and CPA Jerry Jolly, the retired managing partner at KPMG who does accounting for both organizations.
What the records show is that Bon Carré was just the latest of several financial storms CPRT has weathered over the past decade, including the heavy setbacks during the recession, when it lost 84% of its net asset value on paper. In 2008 alone, the company had to write down $40 million, nearly half of which was on a North Carolina property it had acquired for $40 million to develop into an ambitious 400-acre traditional neighborhood development.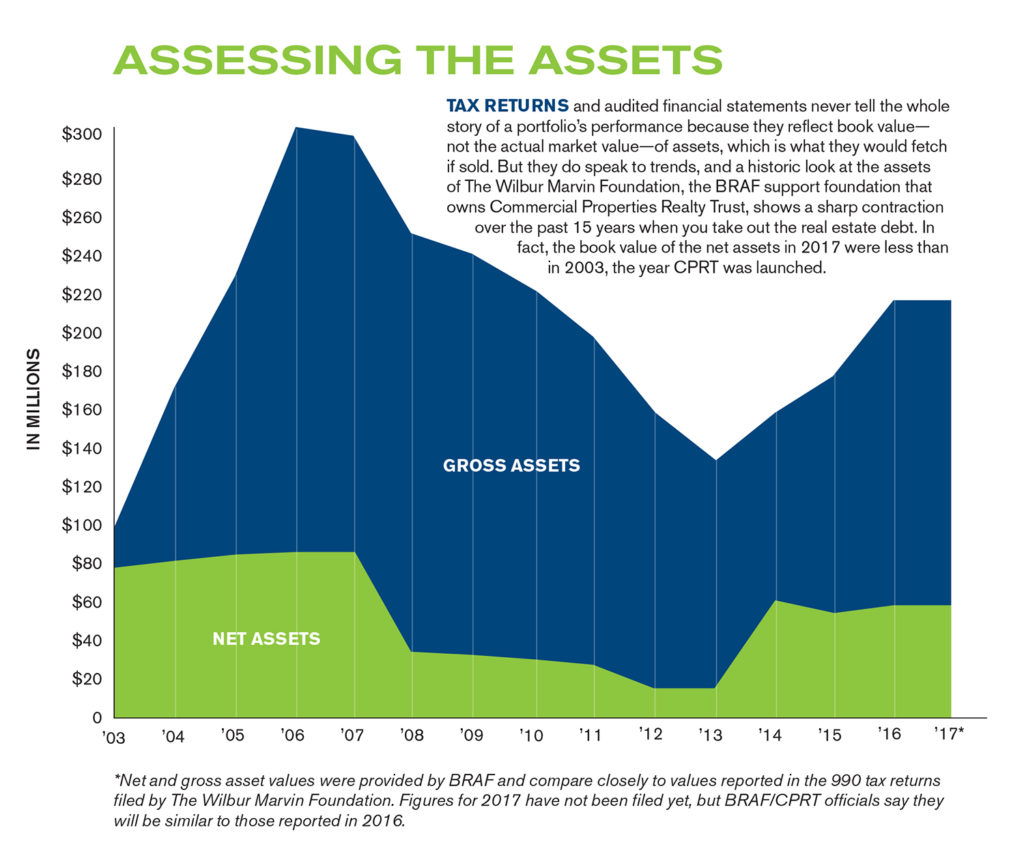 ---
Bon Carré wasn't even CPRT's first foreclosure battle. In 2014, the company defaulted on a $4 million mortgage on a project in Puerto Rico. It was a small deal, but a lawsuit over the matter remains unresolved.
Along the way, it has been buoyed by some high-profile friends of BRAF, especially businessman John Engquist, who has partnered with CPRT on several projects that helped boost the company's balance sheet and cash flow.
At the end of 2017, the net asset value of the portfolio— again, on paper—climbed its way back up to some $58 million. Still, that's less than what it was in 2003, the year CPRT was formed.
Granted, book value, or net assets, is different than market value. Book value doesn't account for depreciation. When the market is bad, it requires that you write down the value of property. The value can't be written back up when the market recovers, nor does it indicate how much cash the properties are generating. Net assets on paper only tell part of a story.
That said, the net asset value of a healthy real estate portfolio should increase over time, especially over 15 years, when the rest of the market—including the real estate sector—has since recovered from the 2008 crash. CPRT's has not—at least not yet.
CPRT officials say the emphasis on the portfolio's net assets is misplaced, suggesting CPRT's properties would fetch far more if sold today at market value than numbers on a tax return suggest. They also point out the crash that took such a toll on their company wiped out many small real estate developers altogether. They hung on.
Also read:

How The Wilbur Marvin Foundation contributed $6 million to BRAF, only to borrow it back.
What they don't dispute is that the portfolio is smaller—and smarter, they say, by design. More importantly, they believe many of their more recent investments and projects have positioned CPRT for growth and are poised to serve BRAF and the Baton Rouge community for the long term.
This focus on higher-end, mixed-use assets is something of a departure from the signature projects like Bon Carré that put CPRT on the map 15 years ago. It also means CPRT will be looking to do more work outside of the Baton Rouge market, where it doesn't have an obligation to make an impact and can focus, more easily, on making money. Which, in theory, can be invested in community-enhancing local projects and civic leadership initiatives.
"Because we require a social benefit from the projects we do in the greater Baton Rouge area, it is simply easier and more lucrative to do projects out of our region," Davies says. "The Water Campus, fully developed, is a $500 million to $600 million project. That seems like enough of a challenge for us to undertake in the next few years."
Focusing on projects outside Louisiana offers another upside, avoiding competition with high-profile local developers, many of whom are major BRAF donors. Think of it this way: In North Carolina, CPRT is just another large, out-of-state commercial real estate company. Here, it's seen, rightly or not, as BRAF's for-profit arm, with built-in advantages—and connections—over the private-sector competition.
In the beginning …
The social benefit that Davies refers to is an important part of what CPRT sees as its mission. Its purpose goes beyond simply making money for BRAF.  True, there are exceptions to this bigger picture local mandate, like Americana, Engquist's master-planned community in Zachary where CPRT is handling the project's commercial development. Historically, however, for a CPRT project to make sense locally, it must make a greater impact than just dollars and cents.
"When I talk to my counterparts they are so envious that we have an active real estate company that can physically change communities to make them more functional and useful," Davies says. "People come here from all over the country to look at our model and say, 'How are you doing this?' And I say, 'God Bless Wilbur Marvin for putting us on this path.'"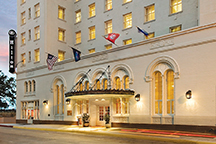 Marvin didn't task BRAF with remaking the local landscape or tackling gritty redevelopment projects. In fact, Marvin was probably the last person who would have invested money in projects that eradicate blight or make communities more livable, walkable and socially equitable. By contrast, he was a guy who built B-grade strip malls—a New Yorker who came to Baton Rouge after World War II and made his fortune developing the kind of flat, nondescript, supermarket-anchored shopping centers that epitomized middle class suburban sprawl in the mid-20th century.
A tough negotiator not known for his generosity during the active years of his career, Marvin became more philanthropic with age. He began making gifts to BRAF in the early 1990s in the form of his real estate assets. Over the course of the decade, he established The Wilbur Marvin Foundation as a support organization of BRAF, transferring some $30 million worth of assets to it.
On his deathbed in 2000, he willed to BRAF his real estate company, Commercial Properties Development Corp. For Marvin,
it was a way to keep the bulk of his fortune out of the hands of the IRS and his unhappy heirs, who would challenge the will in court before eventually settling with BRAF. It was a windfall for BRAF, doubling the size of the foundation's asset base and kick-starting the organization's ability to involve itself in community-changing projects.
To its credit, CPRT—through BRAF's creation of a REIT with Marvin's assets—has done some remarkable developments in Baton Rouge. Though Bon Carré ended in foreclosure, CPRT did stabilize and enhance the center, as it set out to do, and kept it from going dark. Also, it:
Redeveloped the former Heidelberg Hotel site, long a blighted eyesore downtown that no private developer wanted to touch, turning it into the Hilton Baton Rouge Capitol Center.
Took a vacant parking lot and empty Walmart on a high-profile intersection near LSU and developed the bustling Acadian Village Shopping Center.
Partnered with the state to develop the riverfront office complex that brought IBM to Baton Rouge.
Currently, it's developing the Water Campus, with the hope that the research park will attract word-class scientists and engineers in the field of coastal and deltaic studies to Baton Rouge. The potential financial payoff for CPRT, however, is with the high-risk speculative office buildings and apartment complex it is building on the state-owned land.
Critics grumble that BRAF's political connections have helped CPRT get the tax breaks and grants that have made these projects feasible. But no private developer could or would have taken on such risky ventures, even with public assistance, and few disagree the community has benefitted from the investments.
Part of the challenge is that it isn't always clear to the public which hat CPRT is wearing when it undertakes one of its projects. Is it trying to be a for-profit real estate company or the change agent of Baton Rouge? At times, it's not always clear to CPRT itself. Davies acknowledges the company's investment philosophy is complex and guided by several factors, which vary depending on the project and the market.
"We want it to be socially equitable. We want it to be environmentally sensitive to how we use resources. And we'd like for it to give us a return," Davies says. "It has to give us some return or we can't stay in business. … We don't go into business to lose money."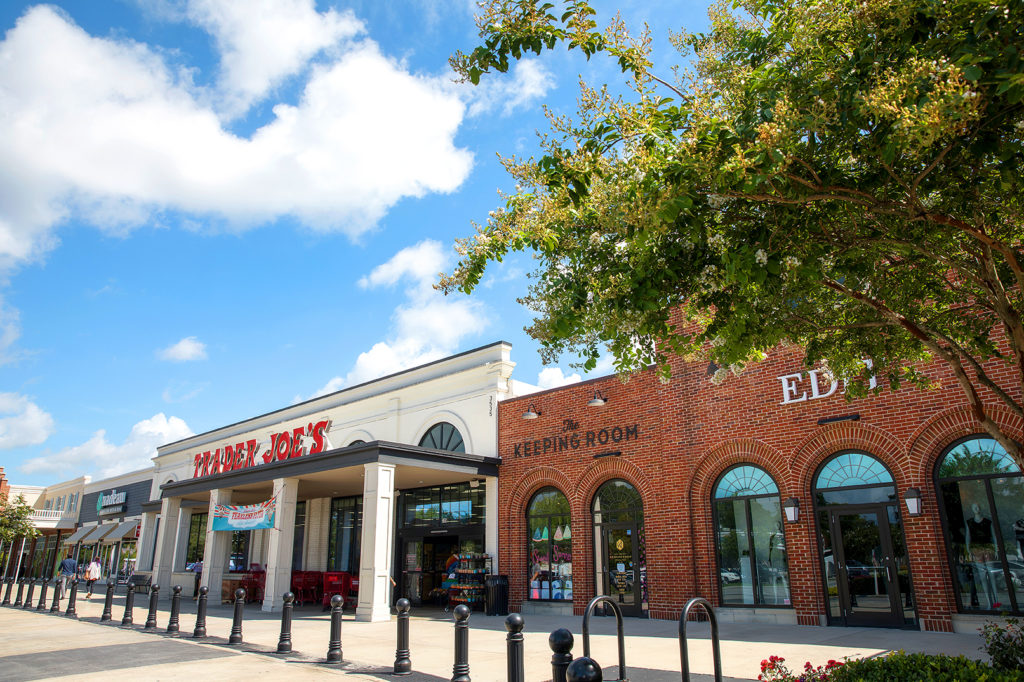 ---
Cutting the losses
The silver-bullet projects with the social good component have been challenging and risky to be sure, though they haven't lost as much money as it might initially appear. In the case of the Hilton, for instance, CPRT spent $7 million acquiring the property in 2005 and another $70 million redeveloping it. Six years later, it sold the hotel for just $41.5 million, seemingly a loss of more than $35 million. But CPRT had secured historic building tax credits for the project, as well as the creation of an economic development district. Factor in the value of those incentives and the actual loss was just some $500,000—essentially, a wash and well worth it, Davies says, considering the redevelopment and five new downtown hotels it helped spawn.
The Acadian Village Shopping Center, another project to which CPRT attaches a social component, wasn't a loss at all. Quite the contrary. Developed on the site of a former Walmart at the busy intersection of South Acadian Thruway and Perkins Road, CPRT spent more than $18 million cobbling together the various parcels needed to make the deal happen, developing the property into a 70,000-square-foot shopping center anchored by the state's first Trader Joe's. A mix of local and national retailers followed, and the shopping center became one of the most successful in the market, commanding lease rates of more than $30 per square foot and generating a net operating income of some $2 million a year.
After just 15 months, CPRT sold the property for $32.1 million to a Texas investor that made an offer Davies says was too good to refuse. (The property has since sold again for $38 million.)
"We bought that because the neighborhood complained there was this big, dead block tied up in a complicated ownership structure so we had to aggregate that, put it altogether and decide when to develop," Davies says. "But we decided to develop something special and wonderful and I think we achieved that. That made a lot of money for us."
Even Bon Carré, on closer inspection, won't be as big a financial hit as it might appear. For 10 years, in fact, CPRT had an Enterprise Zone tax abatement that capped its property taxes at just $80,000. For much of that time, it also had occupancy rates approaching 90%, thanks to several state agencies leasing large amounts of office space in the center.
As recently as 2013, the center was generating positive cash flow to the tune of several millions of dollars a year, and CPRT felt good enough about the center's future—and the prospects of eventually being able to sell it— that it bought out its original partners' 25% share in the property for some $5 million.
But the tax break expired at the end of 2016, increasing the center's property taxes tenfold. At the same time, a balloon payment came due on Bon Carré's mortgage. Adding to CPRT's problems were falling occupancy rates and an inability to either sell the property at an acceptable price or renegotiate the loan with its lenders. Out of time and out of options, CPRT removed its change-agent hat in favor of its calculating, money-making one and simply walked away from its nonrecourse loan. It's the kind of move private developers make whenever necessary and, in a quirk of accounting, turned a loss into a gain.
As Jolly, the accountant, explains, the depreciated book value of Bon Carré was roughly $22 million. By dumping the property and its $36 million liability, the foreclosure will result in a $14 million gain on CPRT's 2018 financial statements.
"Sounds counter-intuitive," he says, "but that is how the accounting works."
Trouble on the road
For all the headlines garnered by the Bon Carré foreclosure, CPRT's biggest financial losses have escaped much scrutiny: underperforming out-of-state investments where the underlying motive is profit, rather than bringing about positive social change in Baton Rouge.
Officials with CPRT blame most of their losses on the Great Recession. Between 2007 and 2012, net assets of The Wilbur Marvin Foundation fell 84%, from $85 million to $14 million. No doubt, a chunk of that decline is merely a paper loss, but it also seems clear the company's performance was affected. For six consecutive years, beginning in 2003, CPRT spun off annual cash contributions to BRAF of at least $1.6 million, with the highest being $3.5 million in 2007. Two years later, in 2009, the contribution fell to just $7,800, and as recently as 2013 was $41,000. Using cash contributions as one measure of CPRT's performance became somewhat negated in 2015, however, with the decision to set the minimum transfer going forward at $1 million.
---
In 2008 alone, the company had to write down $40 million in assets. Some $9 million of that was on a shopping center in West Palm Beach, Florida, that had been one of Marvin's long-time properties.
Yet, nearly half of that write-down—more than $18 million—was on a 400-acre site in Raleigh, North Carolina, where CPRT is developing a sprawling, mixed-use community called 5401 North.
CPRT paid $40 million for the land in 2007, or more than $100,000 per acre, the going rate for raw dirt in the Raleigh market at the time. But it was a considerable sum for a company with net assets at the time of $85 million—almost half the value of its entire net equity. When the market crashed a year later, the book value of the North Carolina property plummeted and for the next four years the property essentially sat idle.
There's been much speculation over the years about 5401 in the Baton Rouge real estate community. On its face, the project is a high-risk venture that doesn't seemingly fit into CPRT's overall investment philosophy. Such years-long, multiphased developments are a challenge to execute even in the best of times—and in your own backyard. Indeed, such a long-term play can create a significant financial payout if—and when—it comes together, but many wonder why CPRT is taking such a risk on a project that not only has no immediate redeeming social value for Baton Rouge but is also five states away.
Also read:

After 11 years of struggles and an $18.2 million write-down, Commercial Properties' North Carolina TND is coming to life.
Davies defends the project on several grounds. One is the Raleigh location, one of the three points in the prestigious Research Triangle and one of the most rapidly growing housing markets in the country. The property was a beautiful piece of rolling farmland near the intersection of two busy highways. At the time of the acquisition, Davies says property was a "great investment." And, it's worth noting, if CPRT set out to develop a mixed-use project of this magnitude in Baton Rouge, it would almost certainly rankle the local development community.
Besides that, Davies, by his own admission, is partial to North Carolina, where he lived before coming to Baton Rouge in the 1980s and still has a second home. Other current and former CPRT executives also have ties to the state. "Well, the team came from North Carolina, right?" he says. "Both Camm Morton and Carolyn Martin worked there, so they had relationships that were natural relationships."
Morton was president of CPRT at the time of the acquisition but left shortly after and was not involved in 5401's development. Martin, who was No. 2 at the time, is now company president.
Above all, Davies believes planned communities, or TNDs, like 5401 are good long-term investments that are worth any short-term headaches, and he is confident 5401 will eventually pay off for CPRT.
"Where you reach your greatest reward is when it is most mature because that is when it is most proven so the price of the dirt goes up and the rents go up … so the last few pieces typically bring in the return," he says. "The beginning is the toughest part, getting the first olive out of the jar. Once you get going you have no trouble being successful."
Today, he says, 5401 is almost at that point, with more than 100 townhouses and single-family homes sold or under contract, and a multifamily development under construction. CPRT also recently announced the development of a brewery in partnership with Baton Rouge-based Tin Roof Brewing Co. and Wake Technical Community College, which has a campus adjacent to 5401. When it opens sometime in 2019, the brewery will be the community's first commercial entity.
"There is no question that when they bought 5401 they thought it would be developed sooner than it was," says Jolly, the accountant. "But now that they've gotten it going it will ultimately pay off, but it has taken longer than anyone expected at the time."
A helping hand
While 5401 appears to be coming together, getting that first olive out of the jar might not have happened without the involvement of some longtime friends of BRAF. In 2013, Engquist, the local businessman-turned-developer, enabled CPRT to restart the project, which had been on hold since the crash, by acquiring for $12.9 million the entire residential portion of the development—nearly 200 acres—and agreeing to develop it through his Engquist-Level Development.
Rather than call it a "bailout," Davies says Engquist's involvement helped "accelerate" the project.
"It was great that it was John because we knew him and trusted each other, but if it wasn't John it would have been someone else," Davies says. "It was just fortuitous it was John."
Two other longtime BRAF friends did 5401 a financial favor when, in 2015, Matt McKay and John Noland, who have both served on BRAF's board over the years, lent CPRT $5.2 million to pay off Wells Fargo, which had assumed the mortgage on the property from its original lender, Wachovia. Jolly says Wells Fargo was "not easy to work with so a decision was made to refinance the loan." But rather than refinance, Noland and McKay stepped forward, willing to buy out the mortgage and offer terms more favorable to CPRT. Under the terms of the deal, the partners were to be repaid some $1.5 million per year, with the final payment due in August 2019.
"The interest on the loan with Noland and McKay was less than the bank rate and more than they both could earn on their own. It was a win for everyone," says Jolly, who adds that while the property is "mortgage-free," there remains a balance on the loan of less than $1 million.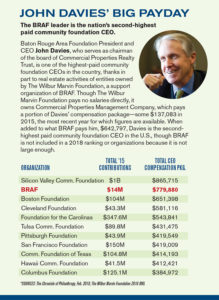 5401 isn't the only project where CPRT has worked with locals on out-of-state deals. It has also developed office buildings around the country for H&E Equipment Services, the publicly-traded heavy equipment firm Engquist heads as CEO. Between 2014 and early 2018, CPRT did 14 build-to-suit facilities, which it then leased back to the company or sold to a third-party at a profit. Both Davies and Engquist characterize the arrangement as a win-win: H&E didn't have to bother with owning real estate or finding other developers to do its build-outs, and the projects gave CPRT a steady revenue stream.
Engquist also brought in CPRT to do the commercial portion of his mixed-use development in Zachary, Americana, currently under construction. It's another piece of low-hanging fruit for CPRT, which didn't even have to buy the land from Engquist. He put up the land as his share of a partnership agreement; CPRT, in turn, is developing two commercial buildings it will lease and manage.
"I don't do commercial," Engquist says. "They do. That's their specialty. I put the land in as my equity and they put their own equity into the deal and oversaw the construction and will manage it, so it made sense to bring them in."
Davies says all the Engquist projects have been beneficial for CPRT.
"We have a very special relationship with John and with (his company) Level-Engquist," he says.
Timely partnerships
While Engquist, arguably, helped CPRT during the difficult years after the real estate crash, so, too, have a couple of high-profile, public-private partnerships that have boosted the value of the company's assets on paper and its prestige both locally and nationwide.
One is the IBM complex, a 2013 deal between BRAF and the state to develop a 100,000-square-foot office building to house IBM on the downtown riverfront along with 525 Lafayette, an adjacent 85-unit apartment building with ground-floor retail. Under the terms of the deal, CPRT received a $30 million grant from the state to develop the office building for IBM, which agreed to create up to 800 high-tech jobs in return for 15 years of free rent.
The deal was lauded as a game-changer for Baton Rouge, a silver-bullet project only BRAF could pull off. It was also a plus for CPRT financially, adding $30 million to the book value of its assets, then at an all-time low of just $14 million.
CPRT was also able to leverage the deal by adding two additional floors of office space and two additional floors of parking to the IBM building from which it could generate income, as well as by developing the apartment building.
Among the office tenants: BRAF and CPRT, which occupy the ninth floor of the building and pay rent at a rate of $30 per square foot; Fishman Haygood law firm, headed by Landry, the CPRT attorney and a developer with Engquist's real estate company; and Raising Cane's. 525 Lafayette, meanwhile, is 92% occupied and leasing at an average rate of nearly $1,650 per unit.
The deal has been criticized by some who see BRAF and CPRT profiting from a government grant. Landry, who orchestrated the complex transaction, counters by saying the arrangement is now a model for P3s across the country, adding CPRT is assuming significant short-term risk for a long-term gain that's benefitting the community.
"These transactions are extremely complicated and have risk that is not necessarily apparent to people on the street. You have four floors of this building (plus four floors of parking) that IBM pays no rent on. If there is a need to make a capital improvement, let's say an AC fails, CPRT has to pay for that and has no ability to get reimbursed," he says. "Why did they take that risk? Because they did something of tremendous social value to the community."
What's also true is CPRT will begin collecting rent on IBM's offices and parking once the 15-year window expires, or if the tech company defaults on its deal with the state.
Landry is both passionate and defensive on the subject. He hears the street chatter, the familiar criticism of CPRT using BRAF's influence and prestige to take opportunities away from conventional, private-sector developers. He doesn't buy it.
"People who don't understand the math on these things say it's unfair because they're owned by a nonprofit," he says. "The truth is, who in the world would take the risk of owning this condo with no rent and the only thing it has is risk for 15 years, and if something goes wrong they have to pay for it?"
Still, he continues, it was a really good investment because IBM is committed to the building—which has been improved by CPRT's investments in the additional floors and adjacent apartment complex—for 15 years at least. If it leaves after that, the community, not IBM, gets the building.
Going forward
Though just a few years old and not yet technically a CPRT asset, the IBM complex is counted among CPRT's successes by Davies, who says the commercial leases are generating cash for the company. As for the other major P3 project on CPRT's books, the Water Campus, it's still too early to tell. The project is arguably CPRT's most ambitious to date—a 35-acre area tract between River Road and Nicholson Drive just south of downtown that the company is redeveloping into a research park devoted to coastal and deltaic studies.

Settlement funds from the BP oil spill helped pave the way for the Water Campus. BRAF was the Louisiana entity entrusted—thanks primarily to then-Sen. Mary Landrieu—with doling out $100 million in settlement money to needy nonprofits around the state. All in, $8.3 million of the BP settlement went toward a multipart deal negotiated with the state—which not only includes a 99-year lease but also involved the sale of a downtown parking garage and office building that's now the Watermark Hotel—and to acquire some third-party properties at the site. None of that money, says Jolly, has gone toward the construction of any of the Water Campus' first three buildings—the $24 million Center for Coastal and Deltaic Studies, which houses The Water Institute of the Gulf, an $18 million building for LSU featuring a 90-by-120-foot scaled model of the Mississippi River, and a $9 million office building for the state Coastal Protection and Restoration Authority.
Greater New Orleans Foundation President and CEO Andy Koplin—who spent 18 years in Baton Rouge in the Foster, Blanco and Jindal administrations—gives BRAF high marks for its ability to secure and administer those funds and use them, in part, for the Water Campus.
"There are a lot of folks who admire BRAF's ability to get the BP funds that were a significant part of the investment for the Water Campus," he says. "That money could have gone to New Orleans or Lafayette or somewhere else. But BRAF was aggressive and visionary and made that deal happen."
The Water Campus is still in the early stages, and the properties CPRT has developed so far have been part of a 99-year lease arrangement with the state.
The risk—and the potential money-making reward—for CPRT is with several speculative buildings, including two office buildings that will comprise 200,000 square feet of new Class A space, a parking garage and a 20-unit multifamily complex. Currently, the first of those office buildings is under construction and the apartment complex is scheduled to break ground soon. CPRT recently announced the first of its tenants for the office building—Stantec Engineering, though the deal surprised few. In 2014, CPRT bought Stantec's downtown office building on Main Street for $2.2 million, then leased the space back to the firm. Many downtown insiders believed it was simply a matter of time before Stantec announced it would be moving to the Water Campus. Stantec Baton Rouge Principal Mike Bruce says the deal was not premeditated and there was no connection between CPRT's early acquisition of his building and the recent decision to eventually move to the under-construction building on the Water Campus.
BRAF has received significant public praise for taking on a project as ambitious and potentially impactful as the Water Campus. Yet that hasn't stopped the criticism being whispered about CPRT adding so much additional speculative office space to a downtown market that already is soft—and for going after existing tenants of downtown office buildings to try to fill them.
Davies bristles at the criticism, though he doesn't dispute there's a lot of vacant office space downtown. He believes the buildings at the Water Campus are special-use properties that will attract a unique kind of tenant. It's part of the grand vision that BRAF has touted for the planned research park, part of the reason for the development's being in the first place.
"We wanted to plant the flag for Baton Rouge being the center for coastal studies and work, and this is a great place to do that," he says. "Do I wish we had a more vibrant office space (market)? I do. There is a lot of empty office space, but this is a more specific-use that allows us to market in a different way, so I'm hopeful it will work."
Davies says the Water Campus will keep CPRT busy for several years, describing it as, "a lot to say grace over."
It's also, perhaps, the last game-changing project CPRT intends to undertake in its own backyard. Moving forward, Davies says it's easier for the firm to make money outside of Baton Rouge, where it doesn't have to worry about achieving a greater social benefit for the community. The plan, in a nutshell, is for CPRT to generate revenue off out-of-market projects—where it can largely operate away from the hometown spotlight and competitive concerns—with a portion of those dollars then flowing to BRAF to help finance its community-enhancing and civic leadership initiatives.
Projects like 5401 represent a better model for CPRT's future, he believes. Though the North Carolina development has been a challenge for the better part of the past decade, Davies says the company is looking to do more high-end, mixed-use developments, and is even eyeing another property in North Carolina.
"We'd like to generate more cash, ultimately, for BRAF, and it's easier on a lot of fronts to do that out of state," he says. "We get criticized here very readily. In Raleigh, they love us. We show up and they embrace us and everyone thinks we're great so it's much easier to work, honestly, out of state and we don't have to worry about getting reasonable returns on our investment."