Why so few women in politics?
Mayor Sharon Weston Broome began her political career 30 years ago with a seat on the East Baton Rouge Metro Council, where she surprisingly found little gender disparity among her colleagues, as one of several women serving on the local level. That changed, however, once she moved into higher office by 1992.
"As I went onto the Legislature, that's when the numbers became more evident," Broome says. "When I ran for office, there was a lot of activity among women in certain positions, running for the council, but the higher offices you sought, you found a smaller pool."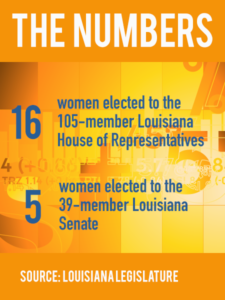 That remains true today. As of 2018, the state Legislature had 16 women serving in the 105-member House of Representatives and five serving in the 39-member Senate. Louisiana, with just 15% female representation in state government, ranked dead last in the Women's Donor Network representation index last year. 
So what exactly is keeping women from elected office in Louisiana? A lot of it, Broome says, has to do with raising money, along with the time and effort a campaign requires.
"That's a biggie right there—the cost of campaigns and commitment it takes to raise money," she says. "Women play significant roles in society, as career professionals and home professionals, caregivers, you name it. Running for office means there has to be extended bandwidth for something like that."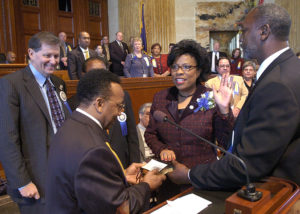 For Broome, sheer determination helped her overcome that challenge. She didn't have the name recognition or resources, but she saw public service as a calling, something she had to do or else she would have regrets. 
Another obstacle women often must rise above is their own reservations about not being adequately qualified to run for office, Broome says, which is something men typically don't worry about. 
"It's a barrier women have to break through, recognizing they're just as capable as their male counterparts," she adds. 
Oftentimes women must prove that to others, as well, especially in male dominated fields. Sen. Sharon Hewitt, R-Slidell, vice chair of the Louisiana Legislative Women's Caucus, knows this well, as she has staked out careers both in politics and the oil and gas industry as a former engineering executive.
"Both in oil and gas and in politics, women have to work harder sometimes to prove themselves and gain credibility," Hewitt says. "Once I have opportunity to do that, I can win people over, and it's not about male versus female, but about being qualified." 
And studies show that when women run for office, they tend to win. So the challenge is getting them to run. Sometimes that takes encouragement—someone suggesting they should run, or seeing other women holding elected office. That's one reason why Hewitt often gives talks and tells her story, in hopes of it resonating with other women. 
This year, more female candidates do seem to be running for office, especially in the state Legislature, in which several lawmakers are term-limited. At least 22 women have announced their candidacies, in addition to 22 female incumbents who are running for reelection or in the other chamber. As a result, a record 44 women are up for election on the Oct. 12 ballot. 
"A lot of literature says women tend to have to be asked by someone else to run for office as many as seven times before deciding to run. Men not so much," Hewitt says. "My message to any female readers is to count this as someone asking you to run. We need more women, we need their voices."