Baton Rouge students juggle summer time management

SUMMER SCHOOL: Amir Smith, an incoming senior at Baton Rouge Magnet High, did the analytics and determined spending the summer in a six-week ACT prep program offered a greater long-term payoff than working this summer. 

(Photo by Don Kadair)
---
Over the summer break, while most of his friends picked up temporary jobs at McDonald's or Foot Locker, 17-year-old Amir Smith found himself back in the classroom.
Smith, an incoming senior at Baton Rouge Magnet High School who's hoping to attend LSU next fall, enrolled in a six-week ACT prep program at Southern University. It's not exactly where he hoped to spend his summer, but like many college-bound students, Smith needed to bump up his ACT score to land a TOPS scholarship. And his mother and her friend convinced him the program would pay off in time more than any temporary job could.
"Initially I didn't want to do it. I wanted a job," Smith says. "I took a while to think about how it'll help me in the future. My mother's friend explained that with a job you might make about $2,000 over the summer, whereas TOPS pays for four years of college."
The payout is much greater, considering the high cost of college today, which is why ACT prep has basically become part of the local high school curriculum. Not only that, students are spending more time involved in clubs, sports, academic opportunities, service work—anything that looks good on a résumé. They're still preparing for the future, although that now seems to require more than work experience alone.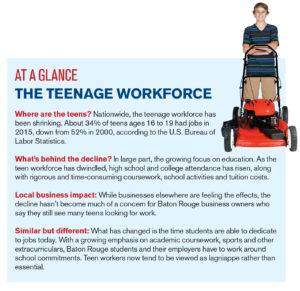 The downside? Fewer teens today have jobs, whether it's because they don't have time or don't see the need. The numbers don't lie: While more than half of teens ages 16 to 19 had a job in 2000, today it's closer to 35%, according to the U.S. Bureau of Labor Statistics. The decline has coincided with a rise in the number of teens attending school and going to college, along with an increasing coursework and tuition costs.
Nationwide, the decline has impacted businesses and employers that typically hire young, cheap labor. Fast-food companies, for instance, have begun raising wages and offering incentives to help attract young employees. In some cities, senior citizens are accepting lifeguarding jobs that teens are no longer taking, The Washington Post reports.
The shortage may not be as pronounced in Baton Rouge. As Smith notes, he was an outlier this summer among his friends who were working. Local high school counselors say that, even though students are busier today with school and extracurricular activities, many still hold some type of job. And workplaces where you might expect teens to get their first job—grocery stores, restaurants or club pools—still have students apply for work during the summer, and for the most part they're decent employees, owners say.
"For fear of falling victim to the 'good old days' mentality, we still get those people," says Michael Valluzzo, McDonald's owner and operator at Valluzzo Companies, and son of founder John Valluzzo. "I wouldn't say we've seen a decrease. We still have teens come in—the same kids that have come in before."
But businesses like his don't necessarily rely on teens. Valluzzo says his restaurants are fully staffed year-round so summer student hires are lagniappe. Other business owners agree, adding that it can be difficult to count on workers under 18 due to school conflicts and labor laws restricting what jobs they can perform and how many hours they can work.
In a sign of the times, though, McDonald's is trying to accommodate and attract young workers by offering educational benefits, including its recently expanded tuition reimbursement program. The company says the program aims to provide jobs that fit around the lives of employees so they may pursue education and career ambitions. In other words, the fast-food giant realizes young people today are looking for more than just a job.
High school administrators, both public and private, see that as well. St. Joseph's Academy Dean of Academics Aubrey Cucullu DeJohn says many students, especially seniors, have jobs but are also involved in a number of other activities and extracurriculars that will likely pay off in the future.   
And it's not just the students' preference, but parents' as well.
"Parents are interested in their children being able to have opportunities and experiences outside of work experiences," DeJohn says. "In addition, there are so many more opportunities for students that did not exist for me when I was a teenager."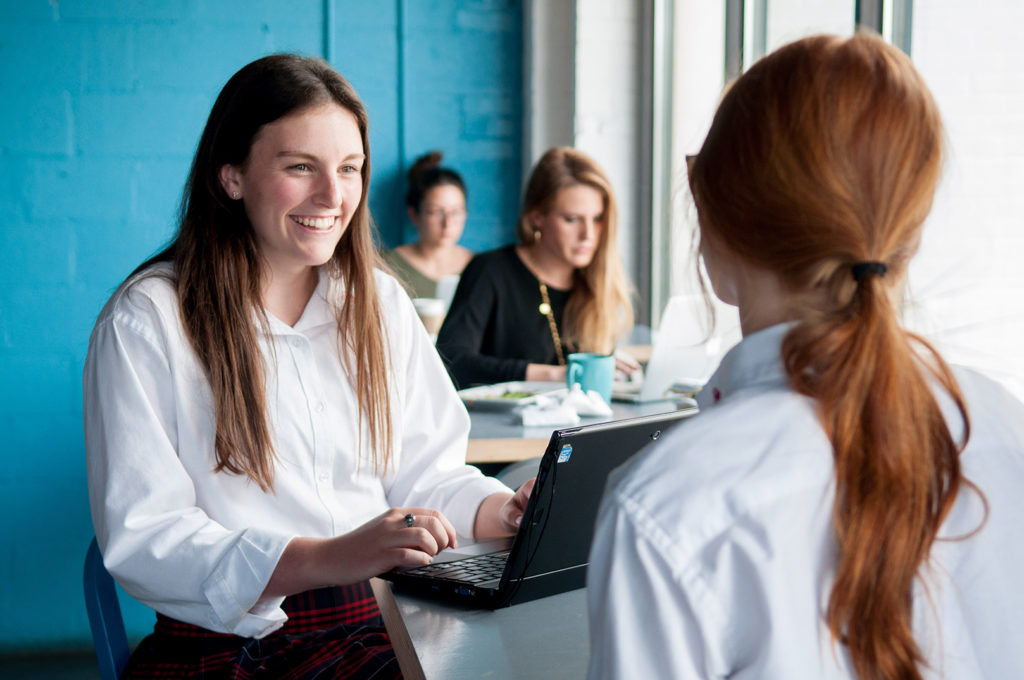 ---
Time suck  
Although not all teens today are bagging groceries or flipping burgers to earn an extra buck, that doesn't mean they don't have other responsibilities and commitments, often pulling them in multiple directions and leaving little down time.
Students involved in sports—and their parents—know this well. From football to dance team, young athletes are spending more time practicing and competing now, as sports become less seasonal and more year-round affairs. Even during the summer, teams typically require off-season training and conditioning, while individual athletes might attend camps or take personal lessons. There's also summer travel teams, meaning family vacations become long weekends on athletic fields or gymnasiums. The same goes for band, drama club and the litany of other school-sanctioned groups students can be a part of today.
Then, once students reach their junior and senior years, college and career readiness comes into focus. They begin taking ACT courses, visiting college campuses or kick-starting their careers with vocational training or certification programs. In what spare time they have left, students try to fit in their social lives, time with friends and family, trips, recreational events and even part-time jobs. 
"During the summer many go to camps, take mission trips, do service work and are involved in pre-college programs," DeJohn says. "That being said, I do know of many students who work in the summer or after school."
Like McDonald's restaurants in Baton Rouge, local grocery stores have not seen a shortage of teens looking for work. About 60% of Rouses Supermarkets employees are part-time, which works well for high school and college students who might have other commitments and cannot work full-time. Rouses also has so many locations that students are often able to find one close enough to home, making the commute easier.
"We still get a great number of young workers," says CEO Donny Rouse. "Fortunately for us, we have access to a lot of teens because we're their first job typically."
Calandro's Supermarket is also known for hiring students in the summer months, and every spring job applications from teens come rolling in, just as they have in the past, says co-owner Blaise Calandro.
"For the most part, they're good employees," Calandro says. "A grocery store environment is a good place for a young person to start out."
Another popular gig for high school students in Baton Rouge is lifeguarding at local pools. Ella Barhorst, a senior at St. Joseph's, has spent her last four summers working at the Kenilworth Club pool, starting out at the snack bar before moving up to lifeguard. The job offers flexible hours, allowing employees to switch shifts and take off whenever they need, which is perfect for Barhorst, who has a loaded schedule outside of work.
Barhorst, 17, is on student council—senior class president, to be precise—and also plays basketball for the school. During the summer, her team has morning workouts and a weeklong camp that they volunteer at, along with a few pick-up games. In the weeks before school cranked back up, Barhorst was busy organizing senior class events, like painting the cafeteria, as well as serving as a school ambassador.
"With the different commitments we have during the year, many of them follow into summer with us," Barhorst says.
That's why she and many of her classmates look for flexible jobs in the summer, like lifeguarding or babysitting, Barhorst adds. And during the school year, when clubs and sports get going full-speed again, it's nearly impossible to hold any job.
"Sports are the biggest reason why a high school student wouldn't be able to get a job, because they are such a large commitment," she says. "Some days I don't get home from school until six or seven at night because I'm involved in student leadership, various clubs and an athletic team."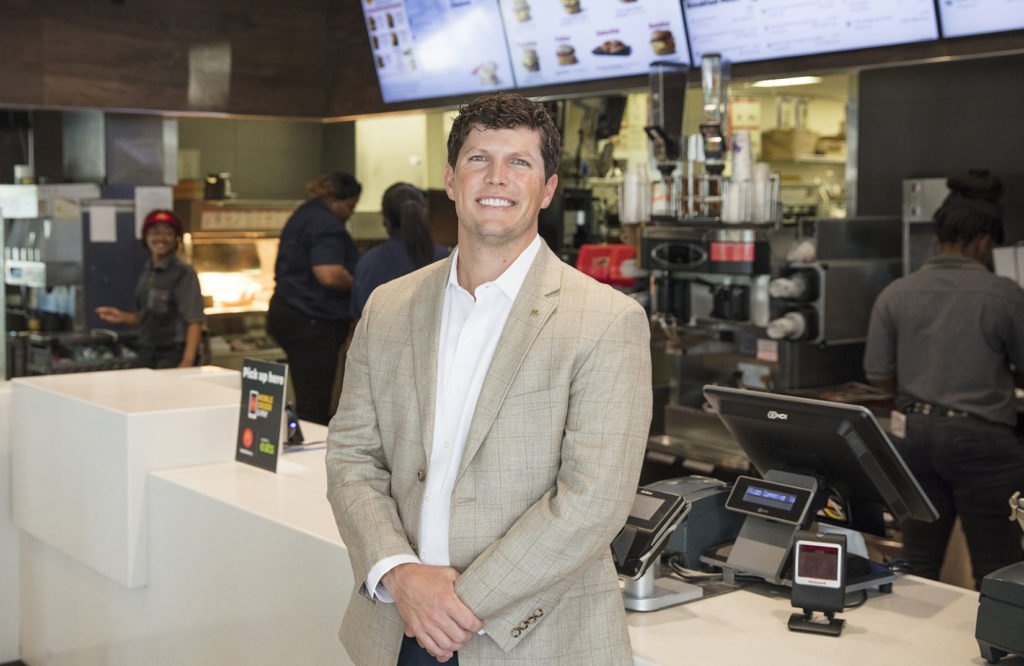 ---
A Southern thing?
With schedules like Barhorst's, it's no wonder many high school students opt for more flexible jobs, like the one she has at Kenilworth Club, which is apparently a highly sought-after workplace among local teens.
"We actually didn't hire everyone who applied this summer because we got so many applications," says manager Sidney Gahagan, a 19-year-old LSU sophomore who has worked at the club pool for the past six summers.
Similar lifeguard-type jobs at places such as the YMCA and BREC in Baton Rouge are also easily filled by young workers. The YMCA, which hires around 200 teens, actually saw an increase in employment among that age group in recent years as they've extended junior camp counselor job opportunities to teenagers, says marketing director Kristen Hogan.
BREC also employs around 50 teens each year as lifeguards or to work admissions and concessions, primarily at Liberty Lagoon, where teens as young as 16 years old can work. Spokeswoman Cheryl Michelet says BREC has a good record of teens who start working with the organization at 16 and come back every summer.
While these employers may not be seeing any lack of teen workers, they have noticed certain new trends or ways in which the teenage workforce of today differs from that of the past, such as a lack of ability to communicate professionally.
"When we're looking for positions that may be more customer service or office based, we're seeing concerning lack of soft skills," Michelet says.
To help teens pick up on these needed skills and understand what's expected in a workplace environment, BREC offers a new summer camp called Teen Get Out, in partnership with Big Buddy Program. The camp allows teens to visit local businesses and meet with company leaders to get an idea of what they look for in future employees.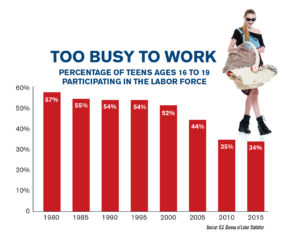 Businesses that have seen a decline in younger workers are those that look for extra help during the school year, such as Louisiana Nursery, a local retail garden center with two locations in Baton Rouge and one in Prairieville.
"Unfortunately our busiest seasons are spring and fall. We need young people, but that runs into sports they're involved in," says store manager Susan Altares. "They want jobs in the summer and that's when we're slow. We don't get nearly as many applicants as we used to years ago."
Altares remembers a time when the store could count on hiring multiple siblings from local families to work for the business, which opened in 1983.
"I don't get that anymore," she says.
Many businesses have simply moved away from hiring many teens under 18, either because their schedules are too difficult to accommodate or because federal labor laws limit what they can do. For example, employers who hire teens under 18 must have employment certification for them on file, issued by the city-parish or parish superintendent. Those 16 and under also have limits on the hours they can work while in school. These restrictions can make hiring teens more of a hassle than it's worth for some employers.
Overall, though, the teenage workforce is not much of a concern for most local businesses. The real concern, rather, is the labor shortage in general, says Dawn Starns, the state director of the National Federation of Independent Business. Employers are having trouble finding and maintaining qualified employees of any age who want to work, she says. The workers shortage remains the single biggest issue among small business.
But Starns hasn't heard much talk about any concerning drop in teenage workers. Not in Louisiana at least.
"National trends may be that way, but it seems here we have kids that are working and wanting job experience," she says. "I don't know if maybe that's just a Southern thing. But it's not such a problem here."