Some in Baton Rouge still doing business old school

CAN I TAKE A MESSAGE: Mark Hebert, a commercial broker with Kurz and Hebert, uses an answering service—rather than voicemail—to handle incoming calls when he's not available, with the service then forwarding messages via email. (Photo by Collin Richie)
---
Answering services. Handwritten tabulations. Charge accounts. Each are phrases you've A) never heard of, or B) not heard within the past 20 years. However, these business processes actually do still exist in Baton Rouge, and are used daily by a smattering of small businesses throughout the city.
Despite countless advancements in technology over the past half-century—voicemail systems, credit card machines and inventory management software, to name a few—some local professionals prefer embracing old-school methods for their daily operations as a "just-in-case" measure, like the commercial real estate professional who relies on an answering service to mediate incoming phone calls in case his voicemail is backed up. Granted, answering services are an after-hours way of business life for doctors and certain home repair professionals, but not so much in the middle of the work day.
Then there are those, like the manager of a local bicycle shop, who say tracking purchases by hand helps employees not rely so much on the internet, instead fostering practical skills for his workers.
Of course, others justify their embrace of an anachronistic system by saying it's for the customer's benefit, like the Southdowns pharmacy co-owner who's slowly phasing out charge accounts, though keeping them alive for older customers who for decades have been using the "buy today, pay in full at the end of the month" service.
Whatever the reason, these professionals are united in one aspect: their nods to the past in the modern-day Capital Region business scene.
AT YOUR SERVICE
Call Mark Hebert, a broker at Kurz & Hebert Commercial Real Estate in Baton Rouge, when he's not available and instead of a voicemail, you'll get a friendly, human voice at the other end of the line asking for your name, contact information and reason for calling.
Call on a Monday at noon and it could be a man's voice; on a Wednesday at 7 p.m., it might be a woman's. The voice might have a slight European accent or perhaps a Southern drawl. That's because someone different always answers the phone. Whoever takes the call then emails Hebert your information and message.
Hebert is among a rare breed who still uses a live answering service, or a business that receives and answers telephone calls for its clients. In his case, the service effectively replaces the traditional in-house receptionist. For most millennials, the concept of an answering service may seem old school; for Hebert, it's a godsend.
"Technology's a funny thing. Let's face it, a voicemail may let you know you have a voicemail, but sometimes you get all your voicemails back at once," Hebert says. "At least with an answering service, I'm able to respond in real-time, and when I get to the office, I don't have 17 answering machines backed up."
Texts and emails aren't foolproof, argues the 36-year property management veteran, whose messages are relayed through Carencro-based Dexcomm. On its website, the answering service is billed as "an extension of your office." Which has led some of Hebert's friends to tease, why not just get an extension?
Jokes aside, the service is invaluable when instantly alerting him to trouble at one of his properties. Like the time a duplex office building he managed caught fire. Firefighters successfully extinguished the flames in the office, but they noticed another office was still filled with smoke. Instead of breaking down the door, the fire department, not wanting to cause any further damage, dialed Hebert's number.
A couple rings later, the answering service picked up, immediately notified Hebert, who had a key to the property and let the firefighters in the office. "Had I not been able to get ahold of them, the fire department would've busted down the door, causing more damage to the building," he says.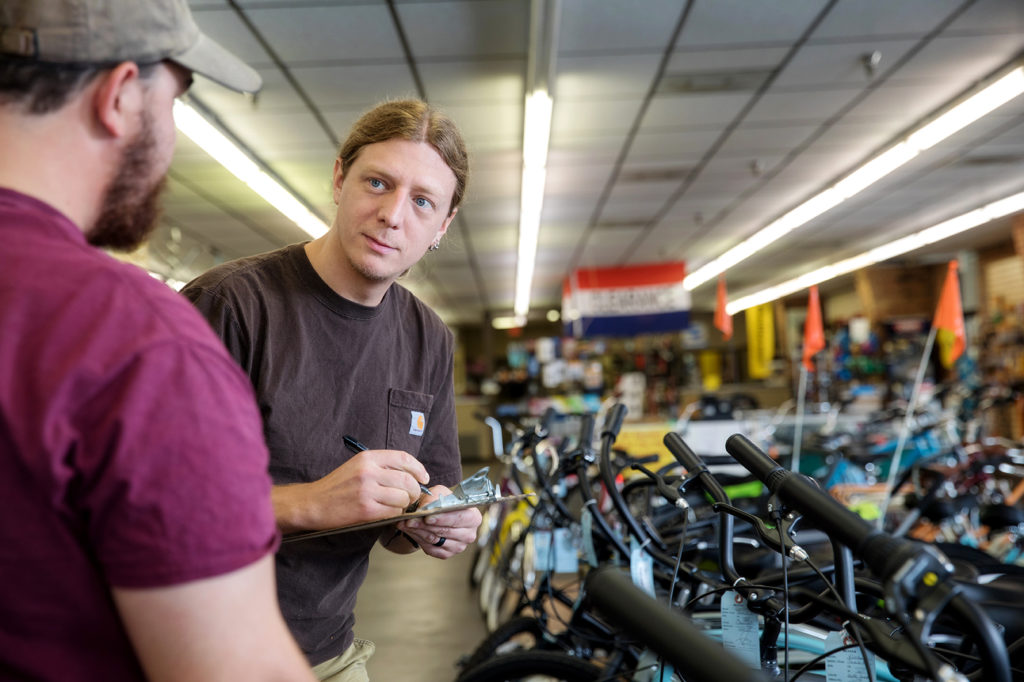 LIKE RIDING A BIKE: Clayton Weeks, general manager at Capitol Cyclery on Essen Lane, handles sales and repair requests the old-fashioned way, writing out the order by hand on a paper invoice. (Photo by Collin Richie)
---
WRITE THAT DOWN
Every transaction that takes place at Capitol Cyclery on Essen Lane is recorded with pen and paper. It's a way of business for Clayton Weeks, general manager of Louisiana's largest bike dealer.
Bob Cullen, who's owned the business for all of its 47 years in Baton Rouge, requires employees to hand-write every sale, a number that ranges between 30 to 150 per day. It's a policy not up for debate—at least not at this location, one of six in the region.
"If it's not broken, don't fix it," says Weeks, who began working at the shop as an LSU student nine years ago while racing for the university's cycling team.
It's not that Cullen is clueless about technology and the internet. The Jones Creek location uses a modern point-of-sale system that links its website's inventory to what the physical store has in stock. Still, says Weeks, the owner is selective about utilizing 21st century capabilities.
Going old school does have its benefits. For example, during the August 2016 floods the Essen location lost electricity, but Weeks was able to power on, tabulating cash sales and—as is the norm—scheduling repairs by hanging tickets on calendars.
Still, there are some predictable downsides. Employees at all six stores must physically count inventory and track it by hand, typing information on each piece of equipment into a Microsoft Excel spreadsheet, which acts as the company's makeshift database. Then every item is hand-recorded once a year for tax purposes.
Weeks has grown to respect the process of hand-writing receipts, saying it gives both employees and customers a higher level of accountability. If an employee incorrectly tabulates a purchase, it's on them; if a customer loses their receipt, it's on them.
The good (or bad, depending on one's point if view) news? There's virtually no excuse for Weeks to not do his job.
"If the power goes out, I can still do business. If the internet goes down, I can still do business," he says. "There's never a reason why I can't take someone's money in exchange for a service or product that we offer."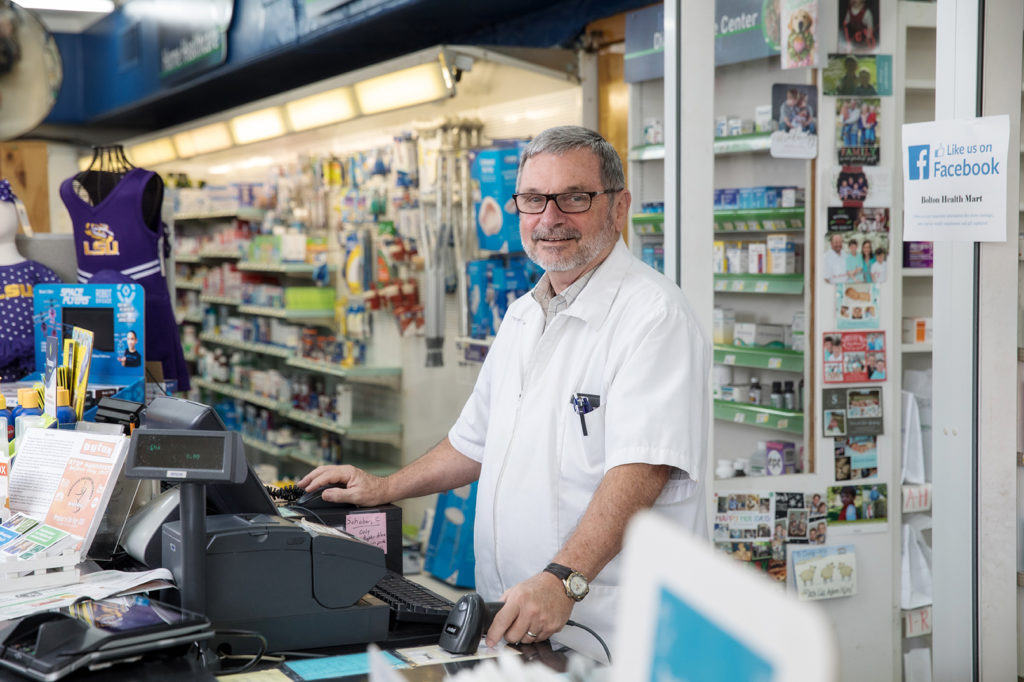 ---
CHARGED UP
Ask Steve Yellott what's different about Bolton Health Mart Pharmacy today, compared to when when Howard and Betty Bolton opened the pharmacy in 1962, and he'll tell you tell that other than offering in-house flu shots and credit card processing machines, "not a whole lot."
Bolton's still delivers prescriptions to its customers and it has remained at the same Perkins Road location, under the overpass, for all of its 56 years. Yet the most interesting status quo nugget is this: Allowing existing customers to continue using their store charge account.
Once a staple of most retail businesses, store-based charge accounts—where customers pay their tab monthly—began fading away in the 1980s with the rise of the credit card. And while Bolton's has been slowly phasing out this financial relic of the past, Yellott, who now co-owns the business with his wife, Sheila, allows some 200 pharmacy regulars to keep their accounts active.
"It's more of a convenience to the customer," he says. "We just decided to keep the accounts we already had, but not introduce any new ones."
Yellott says the customers who still use their charge accounts—most of whom have been regulars for 25-plus years—are grateful they don't have to scramble for dollar bills or checkbooks at the register every time they visit the pharmacy. It's a compact of trust and an ode to the close business-customer relationship that comes with a neighborhood business.