How Shane Morrison built his Baton Rouge real estate, entertainment business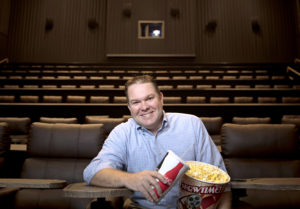 Tearing tickets at the Bon Marché Twin Cinema in 1989, Shane Morrison dreamed his after-school job might evolve into a career.At a young age, he saw his future as a self-made businessman owning and operating several theaters across southeast Louisiana.
Today, he owns that and much more.
As Business Report details in its latest Entrepreneur feature, Morrison parlayed his early theater projects into other real estate opportunities in retail, restaurant management and entertainment.  
"What led me into real estate development was that theaters were anchors for development," says the 44-year-old founder and CEO of Shane Morrison Companies, who is also the largest Walk-On's franchisee with the rights to 30 units across five states.

In the early 2000s, Morrison's theater business evolved into a real estate company and began developing properties for Starbucks, Lowe's, Walmart and early Raising Cane's locations, among others.
When the bottom fell out of the real estate market in 2008, Morrison diversified, leveraging his stake in the Santa Fe Cattle Company restaurants to make his way into restaurant management.

Through his theater brand, Celebrity Theaters, Morrison has recently been focused on developing family entertainment concepts that appeal to all ages. He's currently renovating his theater at Jones Creek Road and Coursey Boulevard into a family entertainment complex that will include things like arcade games, bowling and two of the largest screens in Louisiana with luxury reclining leather stadium seats.
Read the full Entrepreneur feature. Send your comments to editor@BusinesReport.com.